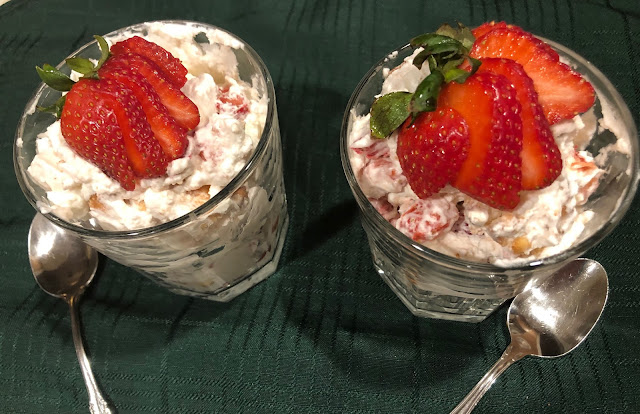 A strawberry fan tops off the strawberry-cream-cake dessert. (Photos:
Kathy Morrison)
The British dessert known as Eton mess has been on my dessert bucket list for awhile. It's named for Eton College, where the sweet creation is served after the traditional Eton-Harrow cricket match. Fresh strawberries are the stars, diced and allowed to macerate in a little sugar. They're swirled into a concoction of fresh whipped cream and broken pieces of crunchy meringue. Sounds like spring, right?
(The origin of the dessert isn't clear, but it seems likely that a dessert accident -- maybe dropped? crushed? sat on? -- was a contributing factor. The dessert called pavlova, after the celebrated Russian ballerina, also has meringue, cream and fruit, and may have been the starting point.)
The angel food cake slices were cut into chunks. After trying
varied sizes, I decided smaller was better: more crunch.
Well, I didn't feel like making my own meringues -- I had gardening to do! -- and I couldn't find any meringue cookies in my COVID-limited sphere. So I went with the next best thing: toasted pieces of an angel food cake I'd found in the supermarket bakery department. That'd be crunchy, sweet and airy, right? So I had to rename the dessert.
I also picked up a few tips along the way about the ingredients, which can come across as too sweet without something to cut through the sugar. Lemon zest and just a bit of mascarpone cheese (or sour cream, crème fraîche or plain yogurt) do just that.
Raspberries or blackberries also would be delicious in this, though you'd have to crush them a bit to get some juice going. (Lime zest instead of lemon works best for these berries.) This recipe will serve 4 easily -- 6 after a big dinner, since it's surprisingly rich.
Don't mix the prepared ingredients together until just before serving or the toasted cake will get soft. Then you'd have something approaching trifle, which is another spring dessert altogether!
Strawberry Angel's Mess
Serves 4-6

Ingredients:
About 1/3 of an angel food cake, sliced and cut into 1-inch or smaller pieces
2 cups hulled and diced fresh strawberries
1-3/4 tablespoons granulated sugar, plus 1/4 cup, divided
1/2 teaspoon fresh lemon zest
1 cup heavy whipping cream
1/4 cup mascarpone cheese, or crème fraîche, sour cream or plain Greek yogurt
4 to 6 strawberries, cut into fans, for garnish, one per serving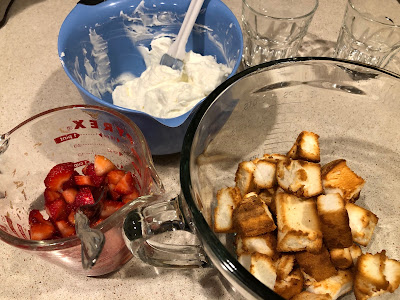 The ingredients are all prepped and ready to combine. I decided
later that more strawberries than I have here would be better,
so the recipe reflects that.
Instructions:
Heat oven to 375 degrees. Spread the cake pieces on a parchment-paper-covered baking sheet, and bake for 8 to 10 minutes, until the pieces are crunchy on the outside but still soft in the middle. Remove from oven and let cool.
Meanwhile, stir the 1-3/4 tablespoons sugar and the lemon zest into the diced strawberries in a bowl, and set aside for at least 5 minutes to macerate.
In a medium bowl, whip together the cream, 1/4 cup sugar and the mascarpone or alternate you've chosen, until soft peaks form, about 2 minutes.
If desired, prepare the dessert ahead to this point and keep everything separate until ready to serve.
When it's time for dessert, set out the individual glasses or bowls. Fold the macerated strawberries into the whipped cream mixture and then fold in the cake pieces. Fill the dishes, top each with a strawberry fan, and serve.