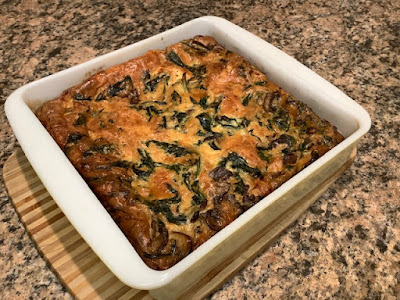 This spinach-mushroom quiche goes together easily
because there's no crust to fuss with. (Photos:
Debbie Arrington)
Spinach, eggs and cheese go together any time of day. This easy recipe combines fresh spinach, spring green onions, eggs, mushrooms and two cheeses into a crust-less quiche that's great for breakfast, lunch, dinner or as a side dish. It's a nice dish to share with friends, too; it can travel.
Sautéing the mushrooms, onions and spinach before adding to the egg mixture eliminates their extra moisture, making a firmer (not soggy) quiche – crust or no crust.
Spinach-mushroom crustless quiche
Makes 4 to 6 servings
Ingredients:
2 tablespoons butter (plus more to grease baking dish)
3 green onions, chopped
2 cups sliced mushrooms
3 large bunches spinach (about 6 cups, torn)
6 large eggs
1 cup cream
Dash of Tabasco sauce
1-3/4 cups Swiss cheese, grated
¼ cup Parmesan cheese, grated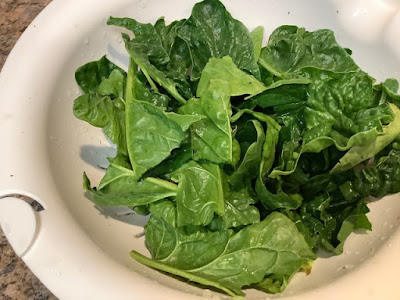 Can't be much fresher than this -- the spinach was just picked
and washed.





Instructions:
Preheat oven to 350 degrees F. Grease an 8-inch square baking dish; set aside.
In a large pan over medium heat, melt butter. Sauté chopped green onions (both white and green parts) and sliced mushrooms until the mushrooms start to loose their moisture, about 5 minutes.
Wash spinach and remove tough stems. Tear or cut into 1- or 2-inch pieces. Do not dry.
Add spinach, with whatever water is clinging to it, to onions and mushrooms in sauté pan, stirring to combine, and sauté until the leaves turn bright green. Cover pan, lower heat and cook briefly, about 3 to 4 minutes, until spinach is done, stirring occasionally. Watch the spinach so it doesn't stick to the pan or burn. Remove from heat and let cool slightly.
In a large bowl, beat eggs. Add cream and dash of Tabasco; beat until blended. Fold in grated cheeses.
Fold in spinach-onion-mushroom mixture and stir until just blended.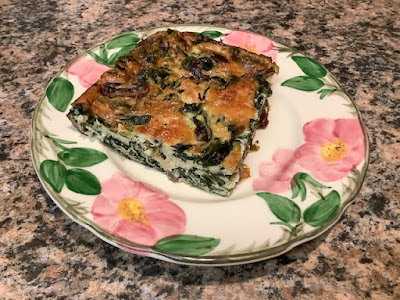 This quiche is delicious served warm or at room temperature.
Pour mixture into prepared baking dish. Bake at 350 degrees for 40 to 45 minutes or until top is golden and a thin-bladed knife, inserted near the center, comes out clean. Let cool slightly and serve warm or at room temperature.