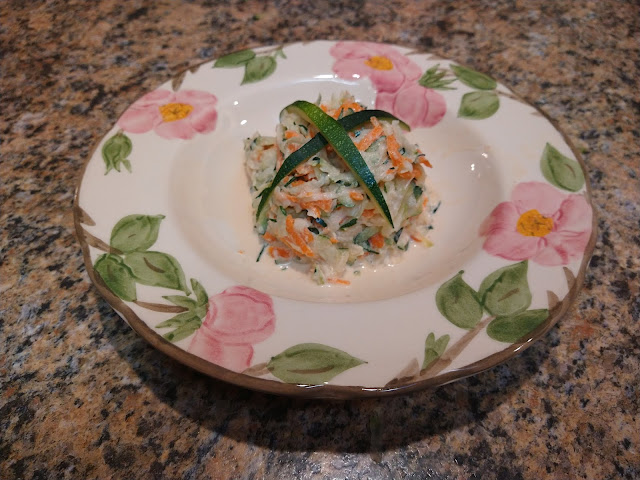 Zucchini slaw is garnished with strips of more zucchini. (Photos: Debbie
Arrington)
It's too hot to cook. And suddenly we have a bounty of zucchini.
In our gardens, all that heat made early squash seem to explode in size (especially if we remembered to water).
What to do with a zucchini baseball bat?
Shred it. Those fast-growing giants haven't had time to get tough; just remove any seeds. Shredded zucchini adds fiber, flavor and moisture to all sorts of dishes, from zucchini bread to casseroles to salads.
This cool slaw gets its crunch from carrots and its zing from grated onions, complementing the raw zucchini. A creamy dressing ties it all together.
The characteristic that makes shredded zucchini so useful in baking – its high moisture content – can be a drawback in a fresh salad. Pat dry shredded zucchini between two paper towels. For best results, do it twice.
No zucchini baseball bats? This salad works great with small zucchini, too.

Fresh zucchini slaw
Makes 2 servings (recipe can be multiplied as needed)
Ingredients:
2 cups raw zucchini, shredded and patted dry
½ cup carrots, shredded
3 tablespoons onion, grated
For dressing:
2 to 3 tablespoons mayonnaise
1 teaspoon red or white wine vinegar
½ teaspoon Worcestershire sauce
2 dashes Tabasco
Seasoning salt to taste (about ¼ teaspoon)
½ teaspoon sugar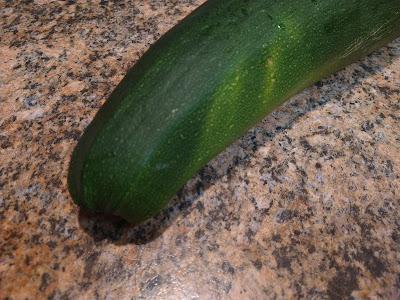 Zucchinis quickly grow to baseball-bat size in hot weather.


Instructions:
Shred zucchini, discarding any seeds; no peeling necessary. Once it's shredded, pat the zucchini dry between paper towels to remove as much moisture as possible.
In a bowl, toss together shredded zucchini, carrot and onion.
In a separate bowl, whisk together mayonnaise, vinegar, Worcestershire sauce, Tabasco, seasoning salt and sugar until blended. Drizzle dressing over vegetables and toss lightly until coated.
Serve immediately.