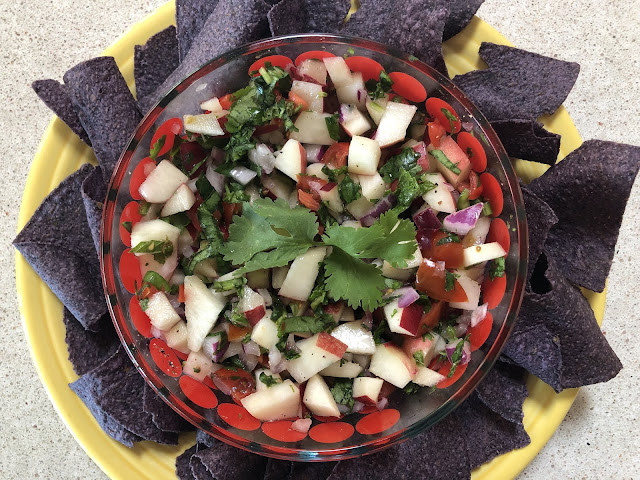 This salsa features white nectarines but is equally good with yellow ones, or white or yellow peaches.
(Photos: Kathy Morrison)
It's a good thing there's so much fruit in season right now. The options to make something without turning on the oven or even the stovetop are much greater.
This salsa is one of my favorites for the hot summer months. The best stone fruit I've found to use it in is white nectarines, which are sweet but a little bland to me on their own. Put them together with some fresh peppers, herbs and red onion, however, and they brighten up considerably. (They also don't have to be peeled.) But use peaches (any color) or yellow nectarines if those are what look good to you at the market or store.
I like this salsa with blue chips, as shown in the photo, but it's spectacular as a condiment with barbecued chicken. Or pile it on some lettuce instead for a great salad.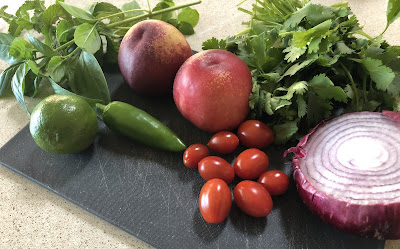 Plenty of fresh summer produce in this salsa.
White Nectarine Salsa
Makes 2 cups
Ingredients:
1/2 cup chopped fresh tomato (grape, cherry or regular size)
1/2 cup diced red onion or shallots
1 fresh jalapeño or serrano pepper, seeded and diced small
1-1/2 tablespoon slivered fresh mint leaves
1-1/2 tablespoon slivered fresh basil leaves
2 tablespoons chopped cilantro
1 tablespoon fresh lime juice
1 tablespoon fresh orange juice (or more lime juice)
2 firm-ripe nectarines, seeded and diced
Coarse salt and freshly ground pepper, to taste
Instructions:
In a medium bowl, stir together the diced tomato, onion, pepper, herbs and juices. Gently stir in the diced nectarine. Add some salt and pepper. Chill 1 hour to meld the flavors. Correct the seasonings before serving.
Note: This salsa tastes best the day it's made, but adding some more fresh lime juice can brighten up the leftovers.