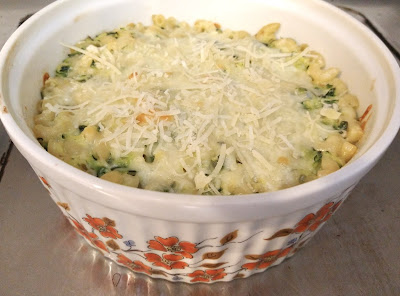 Zucchini mac, fresh from the oven. (Photos: Debbie
Arrington)
It's that time of year when my zucchini keeps growing faster than I can pick it. Little baby squash seem to turn into 2- or 3-pound specimens in less than a week.
When I measure a zucchini by the pound, that squash is best used grated, making the most of its moisture and fiber.
Grated zucchini is the basic ingredient in a wonderful summer pasta sauce. It's rich, creamy and (I insist) good for you. (It's green! It has to be!)
This sauce is a variation of Julia Child's recipe for grated zucchini sautéed with shallots, also known as zucchini butter. It's wonderful with all sorts of pasta – long, short or twisty.
Child nicknamed it "zucchini butter," which is how it tastes. It also can be made with olive oil instead of butter; leave out the cream for a lighter version.
Since I have a lot of zucchini this summer, I started experimenting with zucchini butter. This combination was the best yet, using zucchini butter instead of heavy cheese sauce in a variation of mac and cheese.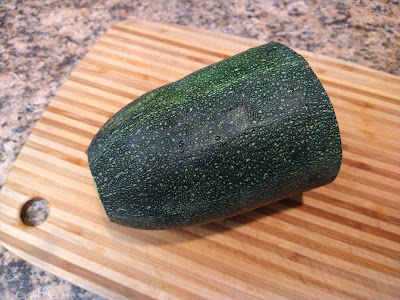 This chunk of zucchini weighed exactly 1 pound.

Zucchini mac

Makes 4 servings

Ingredients:

For sauce:

1 pound zucchini, grated (about 3 cups)

1 teaspoon salt

2 to 3 tablespoons butter

1/3 cup onion, finely chopped

½ cup cream

1 cup elbow macaroni (uncooked)

Water

Salt

Butter to grease baking dish

¼ cup Parmesan cheese, grated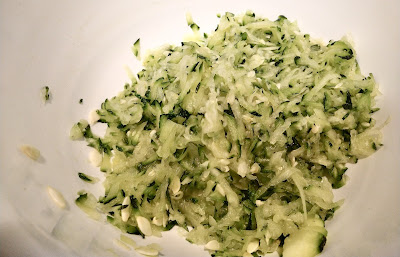 Let the shredded zucchini drain at least 5 minutes.





Instructions:
Preheat oven to 350 degrees F.
Prepare zucchini. Grate squash with skin on. Remove any large hard seeds. Salt grated zucchini and place in a colander. Let drain at least 5 minutes, pressing down gently to remove excess moisture.
In a large skillet over medium heat, melt butter. Sauté onion in melted butter until soft. Add zucchini and sauté, stirring often, until most of the moisture is evaporated and the squash is very soft, about 5 minutes. Add cream and stir until blended. Bring to a boil, then reduce heat. Stir until slightly thickened, about 2 minutes. Remove from heat.
Meanwhile, prepare elbow macaroni according to package directions. Drain.
Add cooked macaroni to zucchini sauce in pan. Stir to combine.
Butter an 8-inch baking dish. Put zucchini-macaroni mixture into prepared dish. Sprinkle top with Parmesan cheese.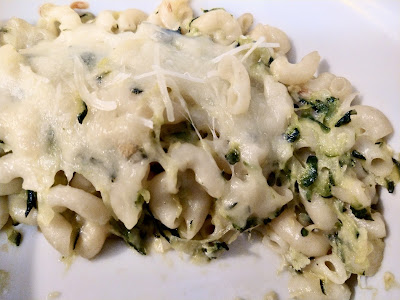 Bake at 350 degrees for 25 to 30 minutes, until cheese turns golden. Let cool 5 minutes before serving.