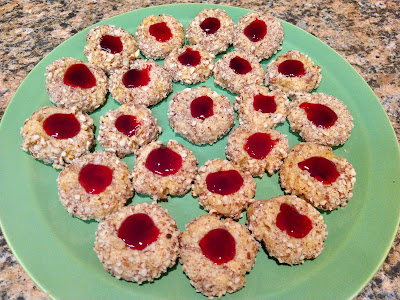 Pomegranate jelly glistens in almond thumbprints.
(Photos: Debbie Arrington)
When I'm lucky enough to have a good crop of pomegranates, I make pomegranate jelly.
What do you do with pomegranate jelly? Try it in thumbprints.
Besides the usual jelly things (such as on top of toast or to glaze meat), sweet-tart pomegranate jelly has a special asset during the holidays: Its beautiful red color.
In a traditional thumbprint cookie, pomegranate jelly glistens like ruby glass. It's also a pretty and tasty touch to other filled cookies such as Valentine's Day hearts.
The combination of pomegranate and almonds make these thumbprints very Central Californian, too. These are both tastes of our Valley.
Got pomegranates? Here's my jelly recipe: https://sacdigsgardening.blogspot.com/2019/12/pomegranate-jelly-colors-season.html
As for the thumbprints, use your first knuckle instead of your thumb to create a deeper well for the filling. While baking, that hole will get smaller as the cookie dough expands.
Warming the jelly makes it easier to spoon into those little holes.
Use a knuckle rather than thumb to indent the

cookies produces a deeper well for the jelly. The wells

shrink when the cookies are baked.

Pomegranate-almond thumbprints
Makes 2 dozen cookies
Ingredients
¼ cup butter, softened
¼ cup shortening
¼ cup golden brown sugar, packed
2 eggs, separated
½ teaspoon vanilla
1 cup all-purpose flour
¼ teaspoon salt
¾ cup almonds, finely chopped
¼ cup pomegranate jelly
Instructions:
Preheat oven to 350 degrees F.
With a pastry blender or fork in a large bowl, blend together butter and shortening. Add brown sugar, egg yolks and vanilla.
Sift together flour and salt. Add flour mixture gradually to bowl, working it into the butter mixture to create a soft dough.
Roll dough into balls, 1 tablespoon of dough at a time. (Refrigerate dough if it gets too soft and sticky.) Balls will be a little over an inch wide in size.
Cover cookie sheet with parchment paper (optional). Otherwise, use an ungreased cookie sheet.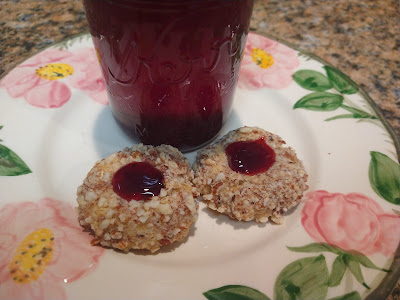 Pomegranate jelly glistens in these cookies, which also would
be good to bake for Valentine's Day.
Beat egg whites lightly. Roll each ball in egg white, then in chopped almonds. Space balls about 2 inches apart on cookie sheet. With your knuckle, gently press down in center of each ball to create a well and flatten the cookie.
Bake at 350 degrees for 10 to 12 minutes. (Don't bake too long; they'll get hard!) Cookies will be lightly browned. Remove promptly from cookie sheet. Let cool.
Warm pomegranate jelly in microwave on MEDIUM for 10 to 15 seconds. Stir. Spoon about ½ teaspoon of jelly into each cookie. Let cool.