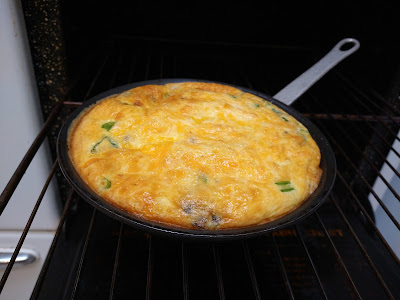 This freshly baked mushroom frittata is also
loaded with cheese and green onions. (Photos:
Debbie Arrington)
Mushrooms are having their moment. In 2022 food trend predictions, mushrooms are on everybody's hot-picks list for their superfood qualities. High in antioxidants and minerals, mushrooms can boost your immune system as well as slow aging and cognitive decline. (They're full of healthy fiber, too.)
Mushrooms also soak up the flavors that surround them, making them a culinary chameleon. They're at home in a wide range of cuisines and add heartiness to all sorts of meatless main dishes.
More pluses for fresh mushrooms: They're in season year round and we're close to one of the largest mushroom growers in California, so good-quality fresh mushrooms are always available. One of Colusa County's fastest-growing agricultural companies, Premier Mushrooms produces more than 300,000 pounds of mushrooms a week.
This frittata is packed with mushrooms. I used brown crimini mushrooms, but white button or baby bellas also work well. Change up the cheese, too, to fit your taste (or what's on hand). This frittata is hardy enough for supper as well as a natural for breakfast. At room temperature, it makes a great picnic lunch, too.
In a 7-inch pan, the egg-cheese mixture will come right up to the pan's edge. Letting the frittata cook for a minute or two on top of the stove before transferring to oven will help prevent spills
Mushrooms and green onions are available

year-round.

Mushroom frittata with cheese and green onions
Makes 2 servings
Ingredients:
2 tablespoons butter
3 cups mushrooms, sliced
2 green onions, chopped
4 eggs
½ cup half and half
1 cup cheddar or Swiss cheese, shredded
2 dashes Tabasco sauce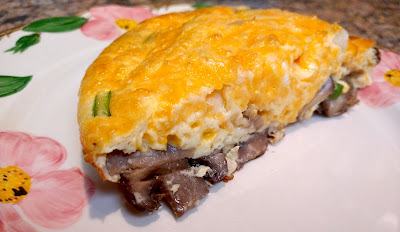 The frittata is a versatile dish, good for brunch, supper or a picnic.
Instructions:
Preheat oven to 350 degrees F.
In an ovenproof 7-inch pan over medium heat on top of the stove, melt butter. Rotate pan to make sure butter coats inner surface. Sauté mushrooms, adding the mushrooms to the pan 1 cup at a time. (They won't fit all at once.) Sauté mushrooms until well cooked and moisture has evaporated, about 10 minutes. Add chopped green onion to mushrooms, stir to mix.
In a bowl, beat eggs lightly; add half and half and Tabasco, beat some more. Fold in shredded cheese.
Pour egg-cheese mixture into pan over mushrooms. Let cook on top of the stove over medium heat until bubbles start to form around the edge, about 1 to 2 minutes. Transfer pan to 350-degree oven.
Bake in oven for 25 to 30 minutes, until the frittata is golden brown and puffy.
Can be served hot, warm or room temperature.