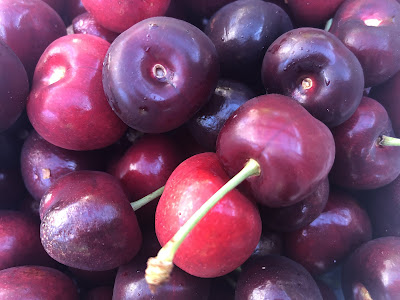 Sweet cherries are so good by themselves that it almost seems a waste to cook them. Anytime I've put them in a quick bread or muffin, I've been disappointed; the bright cherry flavor seems muted. A clafoutis features the fruit better but it requires -- oh, no -- turning on the oven. (Yes, it's getting hot out there, folks, and it's only mid May.)
This compote, a new recipe from the New York Times, struck me as a better way to go. It serves as a fancy dessert, or the start of one, but requires only stovetop cooking time and some refrigerator chill. There is the pitting to do, but my little plunger-pitter made that go fairly fast.
Blanched whole almonds are the other half of the dish, and if you don't mind some tedious work slipping off the almond skins, they are worth doing at home. (Hint: Get some kids to help -- they'll enjoy squirting the soakedalmonds from their rough skins.) Or buy whole blanched almonds if you can find them. Blanched slivered almonds will give the dish a different texture, but they work as a substitute.
I found some gorgeous Brooks cherries at one of the local farm stands to use in this recipe. Brooks are early-season cherries, with a touch of tartness. They have a local pedigree, too: developed at the University of California, Davis, in the 1960s as a variety with low chilling requirements, ideal for growing in the Central Valley.
The finished chilled compote can be served by itself in fancy glass dishes, maybe with some shortbread alongside, or can be draped over poundcake or vanilla ice cream.
Note: This recipe contains liqueur, but if you prefer not to use it, substitute some orange juice.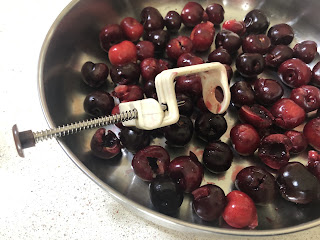 A cherry pitter is essential equipment.
Cherry-Almond Compote
Serves 4-6
Ingredients:
1 cup whole blanched almonds (see below for how to blanch them at home)
1 pound fresh red cherries, pitted
1/4 cup granulated sugar
2 tablespoons orange or almond liqueur, such as Cointreau or Amaretto
2 or 3 drops almond extract
Instructions:
If blanching the almonds yourself: Start with 1 cup whole raw almonds. Place them in a heat-safe bowl and pour enough boiling water over to cover them. Let the almonds soak about 5 minutes, then drain.
Rub the skins off while the almonds are still warm. A few will be stubborn; set those aside and try again after a few minutes.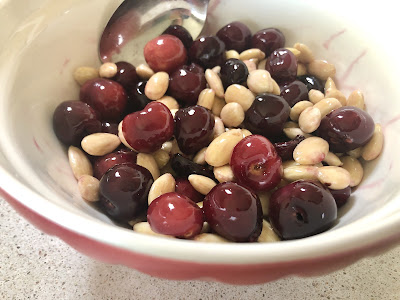 Whole cherries and whole almonds make a delicious light
dessert.
To make the compote: Place the pitted cherries and any juices in a wide, shallow skillet over medium heat. Sprinkle the granulated sugar over them and cook, stirring occasionally to bring the sugar crystals at the edges into the developing syrup. Cook until the cherries are heated through and the syrup is obvious and smooth, about 7-10 minutes.
Remove the skillet from the heat. Stir in the liqueur and the almond extract, then add the almonds.
Scrape the compote into a serving bowl and chill, covered, until ready to serve. Compote can be made 2 days ahead of serving.