Serve this hummus among Thanksgiving appetizers or at any holiday party.
Lime is not thought of as a Thanksgiving flavor. Yet my little lime tree is loaded with fruit this year, and it all seems to be ripening at once.
I wanted a savory recipe using limes, and lucked into a cache of hummus recipes that I adapted for my limes and my family's fairly high tolerance of spiciness.
The recipe is easy, vegan, can be done ahead of time, and as an appetizer won't spoil anyone's hunger for sage or cinnamon or cranberries. It also won't supplant a family favorite while the cook tries something new.
Serve it with crackers or raw vegetables, and dig in while the rest of the meal is still cooking.
Lime-chili hummus with cilantro
Makes about 2 cups
Ingredients:
One 15.5-ounce can chickpeas, drained and rinsed
1 to 2 cloves garlic, minced
3 tablespoons plus 1 teaspoon extra virgin olive oil
2 tablespoons Chinese-style chili paste (or less, to taste)
1 tablespoon tahini (sesame paste)
1 tablespoon chopped fresh cilantro leaves, plus more for garnish
1 teaspoon ground coriander
Zest of 1 lime
2 tablespoons fresh lime juice, or more as needed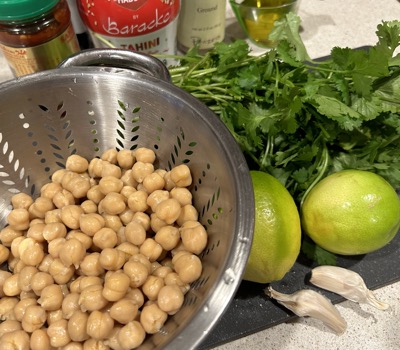 Salt and freshly ground black pepper to taste
Instructions:
Place the drained chickpeas, garlic and olive oil in a food processor or blender. Whir until the chickpeas are broken up and starting to become paste. Add the rest of the ingredients and blend to desired texture.
Taste the hummus and adjust the seasonings. Add a bit more lime juice if the texture is too thick.
Serve immediately with crackers or raw vegetables, or cover tightly and refrigerate until ready to serve. Again, add a touch of lime juice if it has thickened up too much.