This might look like a failed chocolate cake, but it's rich compost harvested from red wigglers.
I'm here today to ask you to invite some worms to Thanksgiving dinner.
Don't know any worms? OK, the timing's a little tight, but here's a tip: This weekend the Placer County master gardeners are going to have two sessions of worm meet-and-greet, as it were: Workshops in Roseville and Lincoln.
The Roseville one, from 10 a.m. to 11:30 a.m. Saturday, Nov. 18, at the Roseville Utility Exploration Center, costs $20 for Roseville residents and $22 for non-Roseville residents. Seating is limited, but when I looked this afternoon, there were still two spots available. Attendees get a starter family of red wiggler worms and a bin for them to live in. Check the city of Roseville's registration site here.
The afternoon workshop, at the Lincoln Library, 485 Twelve Bridges in Lincoln, is also Saturday, from 2 to 3 p.m. There is no fee and no registration required, but no wigglers or other materials will be provided. Attendees must acquire a brood of worms and a bin on their own. The workshop listing is here.
A worm home is not a complicated set-up: My bin is nothing more than a heavy-duty Husky bin, with holes drilled in the sides and the bottom. It sits on top of some bricks so any moisture can drip out. For bedding I use Eco Flake Animal Bedding -- shavings that are sold in bales for about $10 each at feed and some hardware stores. Leaves or shredded newspaper can be used as bedding as well. My previous bale lasted three years, so it's a worthwhile purchase.
The master gardeners will have plenty of advice on what and when to feed the worms, but I will add one tip: No cranberries.
My worms are going to be dining this Thanksgiving on apple cores, carrot trimmings, potato peelings and coffee grounds. (No meat, grease or citrus.) For dessert, they're going to get a pumpkin -- a whole one, left over from Halloween. That will last them until Christmas.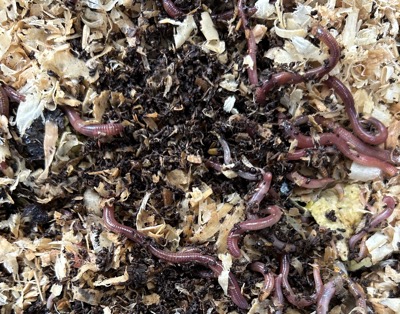 These little wigglers pay me back regularly with the richest compost you can imagine. I don't have a big space to harvest the entire bin, so I do micro-harvesting when I feed them. The plate in the photo above shows my typical haul, which gets spread on top of some soil in the garden, usually at a spot I think needs a boost, or in one of my potted plants.
If you can't attend either of the Placer workshops, you can still make friends with some worms in time for New Year's Eve, and certainly by Valentine's Day. The Sacramento County master gardeners' worm composting tips can be found on this page (roll down).
You and your plants will be glad you invited worms to dinner.