Fuyu persimmons and apples work well together in this fall-flavors crisp.
Fuyu persimmons – the squat orange variety that's shaped like a tomato – pair well with apples. They go together great in this flavorful fall dessert that also works well for brunch or midday snacks. Crisps travel well, too; that's an asset during a season full of get-togethers.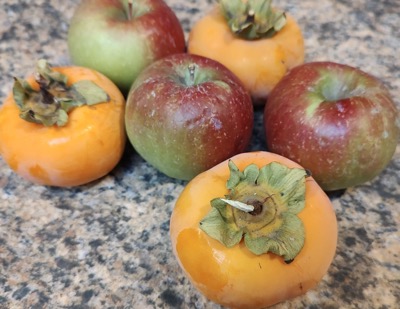 Fuyus (unlike pointy Hachiya persimmons) can be eaten crisp or cooked. This crisp can be made with all persimmons or all apples, but it's best with half of each. Choose an apple variety with some tartness that also holds its shape (think Granny Smith or McIntosh). Vary the sugar depending on the tartness of the apples.
Serve warm or room temperature, with or without whipped cream or ice cream. Refrigerate any leftovers.
Persimmon and/or apple crisp
Makes 6 to 8 servings
Ingredients:
5 cups Fuyu persimmons and/or apples, peeled and thinly sliced
1 to 2 tablespoons lemon juice
¼ to ½ cup granulated sugar
2 tablespoons all-purpose flour
1 teaspoon cinnamon
Butter or cooking spray to grease pan
Topping:
¼ cup all-purpose flour
½ cup quick cooking oats
½ cup brown sugar, packed
¼ cup (½ stick) butter or margarine
½ cup walnuts or pecans, chopped (optional)
Instructions:
Preheat oven to 375 degrees F. Butter or oil-spray an 8-inch casserole or baking dish; set aside.
Core, peel and thinly slice persimmons and/or apples. Toss with lemon juice.
In a large bowl, mix together granulated sugar, 2 tablespoons flour and cinnamon. Toss fruit with sugar-flour mixture to coat.
Transfer fruit mixture to prepared baking dish.
Prepare topping: In a medium bowl, mix together remaining flour, oats and brown sugar. With a pastry blender or two knives, work butter into flour mixture until crumbly. Stir in chopped nuts, if desired.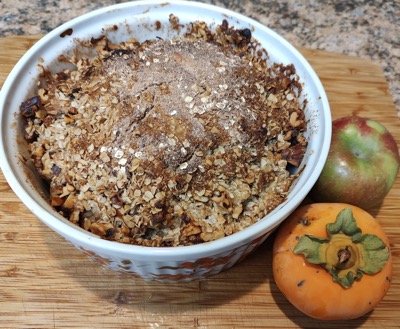 Spoon topping over fruit mixture. Put baking dish on top of a cookie sheet, to catch any spills if filling bubbles over while baking.
Bake in preheated 375-degree oven until top is golden brown and fruit is bubbly, about 40 to 45 minutes. Remove from oven and let cool at least 15 minutes before serving.
Serve warm or at room temperature, with whipped cream or ice cream if desired.