These scones are full of grated apple and fall spices. The one at left includes cinnamon imperials and the other has dried cranberries.
Baking with apples never gets boring. The fruit is flavorful but not so bold that it dominates a dish. Apples play well with other ingredients.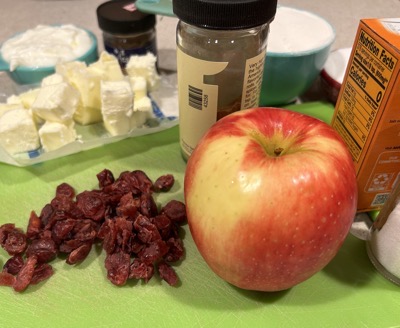 Here in November, with cozier days ahead and holidays looming, I thought I'd try a few variations on apple-cinnamon scones. They wound up with completely different personalities, proving that scones can be tailored to the occasion.
I recommend using a sweet-tart apple for this recipe, something like a Honeycrisp, a Fuji or one of the newer boutique apples such as a SweeTango. (The latter is what I used.) I grated the apple rather than chopping it, skin still on, but if you have a thick-skinned apple I'd peel it first.
Dried cranberries were my first choice for mix-ins, but while digging them out of the cupboard, I found a jar of cinnamon imperials (aka Red Hots) and decided to do half the batch with those, just to see how they'd work. You don't need many to get that fun pop of spice.
The cranberry scones as baked were classic, perfect for a Thanksgiving weekend brunch, say, while the Red Hots scones looked ready for a Christmas party. Cut smaller they could even sneak into a cookie exchange.
Other potential mix-ins are dried cherries or blueberries, or candied ginger, either chopped or already in sweetened baking-ready bits. And of course most chopped nuts -- especially if toasted first -- play well with apples, too.
My dough was a little soft -- too much liquid, which I've corrected in the recipe here -- so I put the scones, pan and all, into the freezer for about 20 minutes. Skip this step if time is an issue, or your dough is plenty firm, but the freezer visit does allow the glutens to relax.
I don't generally glaze my scones, but these will work with glaze, too. Just skip the sprinkle of sugar on top before baking, then glaze when the scones are baked and cooled for a few minutes.
Apple scones with spices and mix-ins
Makes 12 scones
Ingredients:
2 cups unbleached all-pupose flour
1/3 cup granulated sugar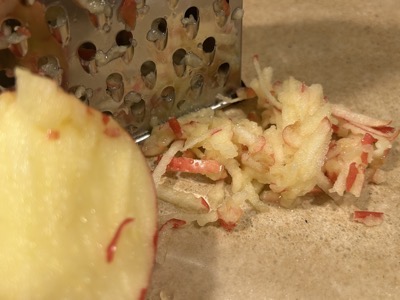 2 teaspoons baking powder
1/2 teaspoon baking soda
1/2 teaspoon salt
1 teaspoon cinnamon and 1/4 teaspoon each nutmeg and allspice, OR 1-1/2 teaspoons pie spice
1 sweet-tart large apple, washed (cored if you have a corer); peeled if the skin is very thick
8 tablespoons (1 stick) unsalted butter, well-chilled and cut into small pieces
1/2 cup plain yogurt
2 to 3 tablespoons milk or half and half, more optional for brushing on top of scones
1/2 cup mix-ins such as dried fruit, toasted and chopped nuts, or chopped candied ginger, or 1/4 cup cinnamon imperials
Coarse sugar for sprinkling, optional
Instructions:
Preheat oven to 425 degrees. (You can wait on this if you plan to chill the scones in the freezer before baking.)
In a large bowl, whisk together the flour, granulated sugar, baking powder and soda, salt, and the 1-1/2 teaspoons total of spices. Set aside.
Using the large holes on a grater, grate the apple, turning it often, until you're just about to reach the core (if you haven't already cored it). You should have about 1 cup of shreds. Set aside.
Cut the butter chunks into the flour mixture with a pastry blender, two knives, or your hands. The mixture should look like meal, though some larger bits of butter can remain.
Now mix the yogurt and the apple shreds into the flour-butter mixture, using a flexible spatula to turn the mixture over gently. Sprinkle on 2 tablespoons of the milk and the chosen mix-in if the entire batch will be the same type. Continue blending until you have a rough, floury ball of dough. Add another tablespoons of milk if it's really dry, but the dough should not be smooth or too wet.
Turn the dough out on a flour-covered surface, such as a cutting noard or pastry cloth. Knead the dough together gently a few turns, then divide it in half and pat into two rounds about 1 inch thick. If you want two mix-ins like I did, halve the dough and add each one (half of the amounts listed for a whole mix-in) to its dough before they're patted into rounds.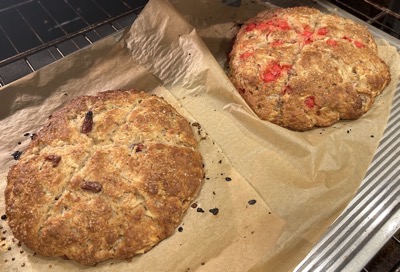 Transfer the rounds to a parchment-covered flat baking pan. Score the top of each round where you plan to cut it later, OR cut all the way through and gently separate the triangles. The latter will give the scones slightly crunchier edges.
At this point you can put the whole pan in the freezer, then preheat the oven to 425 degrees. Freezer-chill for 20 to 30 minutes while the oven is heating. Then proceed as described below.
If planning to bake imediately, brush the dough rounds with milk and sprinkle on some sugar. Then bake in the already heated oven.
Bake for 20 to 25 minutes until the tops are brown and the dough is fully baked. (Cut into the rounds to check if they're still in circles.)
Cool and glaze if desired. Scones can be reheated in the oven or microwave.