Two layers of spices, apples and blackberries give this breakfast treat a burst of early-fall flavor.
Our lovely fall weather coincides with the beginning of fall, thankfully. And it finally feels OK to turn on the oven -- and leave it on for awhile. Which is a good thing, because this delicious coffee cake needs some time.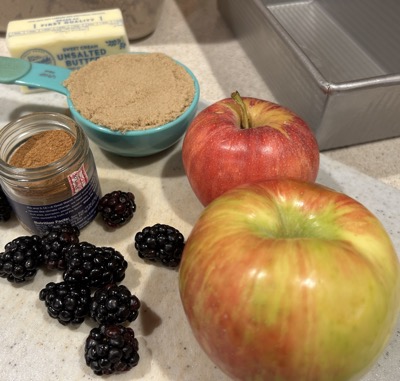 The recipe features early-season apples and late-season blackberries, one of my favorite combinations. They are complemented by the double ripple of spices in a homey cake that's perfect with morning coffee but also could be an after-dinner treat (with a little whipped cream).
The recipe that I adapted named this baked good a bread, and called for baking it in a large loaf pan. After trying it out, and extending the baking time three times to get it fully baked, I say: Hogwash. This is a coffee cake, and it would work better in a deep cake pan or a springform pan. Or even two smaller loaf pans, baking one to eat and the other to freeze or give away.
Follow along here and decide yourself which pan to use; just make sure it's at least 2-1/4 inches deep if not a loaf pan. The cake itself goes together easily once the apples are prepared. Sub out the blackberries for blueberries or raspberries if desired, or some chopped toasted nuts. Or leave them out entirely for an all-apple delight.
Note: I used Penzey's Pie Spice for the spices, but there's an easy substitute: 1 teaspoon cinnamon and 1/4 teaspoon each of nutmeg, allspice, ginger and ground cloves. Or create your own combination.
Spiced apple-blackberry coffee cake
Serves 8-12
Ingredients:
Butter and flour to grease pan(s)
1/2 cup light brown sugar
2 teaspoons pie spice blend
1-3/4 cups all-purpose flour
1-1/2 teaspoons baking powder
1/2 teaspoon baking soda
3/4 teaspoon salt
1/2 cup (1 stick) unsalted butter, room temperature
3/4 cup granulated sugar
2 eggs, room temperature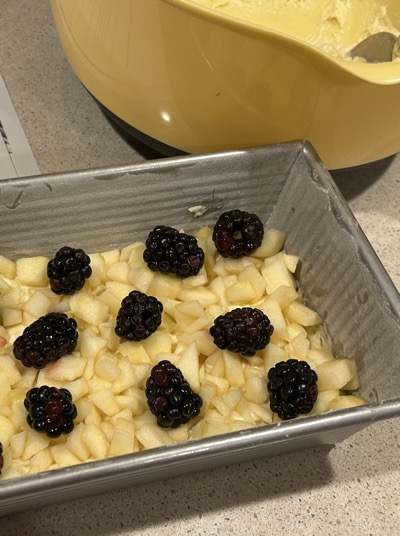 1/2 cup buttermilk
2 teaspoons vanilla extract
2 cups peeled, cored and diced baking apples, such as Gala, Honeycrisp, Fuji or Granny Smith, or a combination
One 6-ounce container blackberries (about 3/4 cup), washed and dried
Instructions:
Grease and flour a 9-inch springform pan, a 9-inch square baking pan, one 9-by-5-inch loaf pan or two smaller loaf pans of equal size.
In a small bowl, stir together the brown sugar and the spice blend. Set aside.
In a medium bowl, whisk together the flour, baking powder, baking soda and salt. Set aside.
Place the butter and granulated sugar in a large bowl and mix until thoroughly combined and smooth. Stir in the eggs one at a time, blending well after each addition.
In a measuring cup or small bowl, stir together the buttermilk and vanilla extract.
Mix about half of the flour mixture into the butter-egg mixture, combining thoroughly. Pour in the buttermilk-vanilla liquid, mix thoroughly, then add the rest of the flour mixture, blending until fully combined.
Pour half of the batter into the prepared pan. (If using two pans, put a fourth of the batter into each -- it doesn't have to be exact, but the bottom of each pan should be covered.)
Evenly distribute 1 cup of the apples over the batter, then add half of the blackberries. Gently press the fruit into the top of the batter, which likely is starting to get puffy. (The buttermilk meeting the baking soda does that.) Sprinkle half the brown sugar-spice mix over the fruit.
Repeat with the rest of the batter, fruit and spice mix.
Put the pan in the heated oven, and bake until a toothpick inserted in the center comes out clean. For my packed 9-by-5-inch loaf pan, this took a total of 70 minutes. Best advice for the various pans: start checking after 45 minutes, and add time from there until you're confident it's fully baked.
Let cake rest for 10 minutes in the pan on a wire rack after baking, then remove it from the pan and allow to fully cool before serving.