Vary the fresh vegetables in this stew to your taste or harvest.
What do you do with leftover tri-tip roast? (Besides tri-tip sandwiches.) Try this tri-tip stew.
This time of year (aka BBQ season), we tend to grill tri-tip fairly often. Which means we often have leftover cooked beef roast and the makings of a flavorful stew.
This recipe is packed with fresh tomatoes, carrots, potatoes and green beans, making great use of my late summer or early fall harvest. In winter, substitute canned tomatoes and frozen green beans.
Like any stew, the mix of vegetables is flexible. Instead of green beans, add summer squash, corn or peas.
Herbs de Provence is my favorite seasoning mix (even before I spent a week in Provence). Complementing the red wine, this herb mix typically includes rosemary, thyme, savory, oregano and lavender. To substitute, use equal parts rosemary, thyme and oregano.
Tri-tip stew with tomatoes and green beans
Makes 4 servings
Ingredients:
2 tablespoons olive oil (and more as needed)
1 yellow onion, peeled and chopped
2 cups cooked tri-tip beef roast, cubed
¼ cup all-purpose flour
1 cup red wine
1-1/2 cups beef broth
1-1/2 cups chopped tomatoes
1 teaspoon Herbs de Provence
1 teaspoon garlic salt
½ teaspoon coarse black pepper
2 carrots, cut into coins
2 potatoes, peeled and cubed (about 1-1/2 cups)
1 cup green beans, trimmed and cut into 2-inch pieces
Instructions: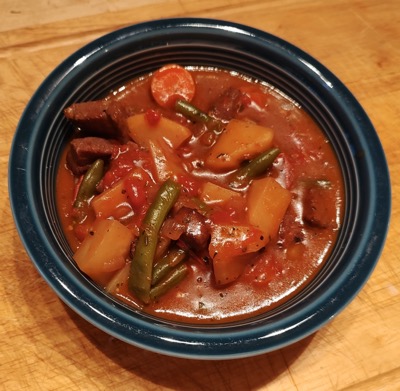 In a heavy large pot or Dutch oven, heat olive oil. Add chopped onion and sauté over medium heat until onions are soft.
Meanwhile, dust cubed cooked tri-tip with flour. Remove onion from pot and add floured meat cubes. Add a little more oil if needed. Over medium heat, brown meat cubes. Once they're browned, return onions to pot.
Add wine, beef broth and chopped tomatoes. Add Herbs de Provence, garlic salt and black pepper. Bring mixture to a boil. Add carrots and cubed potatoes. Return to boil, then reduce heat to simmer. Cook covered for 30 minutes, stirring occasionally. Make sure to scrape any brown bits from the bottom of the pot into the mixture.
Add green beans; stir well. Continue cooking covered another 15 minutes or until beans are cooked and potatoes and carrots are tender.
Serve warm with crusty bread or rolls.