This fig cake is more of a rustic torte, with its ground-almond base. Enjoy with morning coffee or, as here, with a scoop of vanilla ice cream for dessert.
Fig season is fleeting. The best fruit is ripe just as summer as ending, but "pumpkin spice" everything tends to crowd it off the seasonal stage.
This little cake -- which also could be called a torte -- features fresh figs in a base of ground almonds. Spiced with cardamom and gently scented with orange zest, it's delicious for brunch or dessert.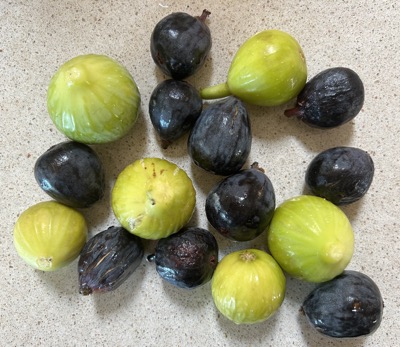 The recipe can easily be made gluten-free by subbing out the 1/4 cup all-purpose flour for coconut flour or any cup-for-cup gluten-free blend.
I used the raw almonds called for in the recipe, grinding them up in my food processor. But readers' notes on the original NY Times recipe indicated that almond flour can be substituted, but at a slightly higher volume, so I included that as an alternative.
And if you're not into figs, any other summer or early fall orchard fruit can be used. I think pear slices would be particularly good.
Fig and almond cake
Adapted from NYT Cooking
Serves 6-8
Ingredients:
4 tablespoons butter, melted, plus more butter for the pan
1 cup raw (not blanched) almonds, or 1-1/4 cups almond flour
1/4 cup granulated sugar, plus more (or coarse or Demerara sugar) for sprinkling on top
1/4 cup all-purpose flour or gluten-free alternative
1/2 teaspoon grated orange zest (optional but preferred)
1/2 teaspoon baking powder
1/4 teaspoon cardamom or allspice
1/4 teaspoon cinnamon
1/8 teaspoon salt
3 eggs, lightly beaten
2 tablespoons honey or agave syrup
1/2 teaspoon almond extract
12 to 14 ripe figs
Instructions: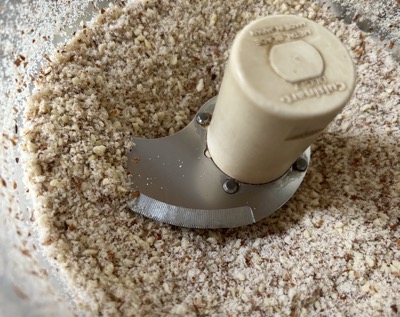 Butter a 9-inch springform pan, fluted tart pan or pie plate and set aside. (If you intend to remove the cake from the entire pan before serving, cut out a circle of parchment paper, place it inside the buttered pan, then butter the paper.) Heat oven to 375 degrees.
If using the raw almonds, place them and 1/4 cup sugar in the bowl of a food processor and process until the mixture becomes a coarse powder (see photo). Add all-purpose flour, orange zest (if using), baking powder, spices and salt. Pulse until just combined.
Alternatively, whisk together the almond flour and sugar in a large bowl, then whisk in the all-purpose flour and other ingredients above.
In a bowl or large measuring cup, combine the beaten eggs, honey or agave and almond extract. Blend in the dry mixture, beating until just combined. Pour batter into prepared pan.
De-stem the figs and slice in half, or in quarters if they're large. (My cake had halves of black Mission figs and quarters of green Kadota figs.) Arrange figs cut side up on the top of the batter. Sprinkle cake with 1 to 2 tablespoons sugar (Demerara sugar is nice if you have it).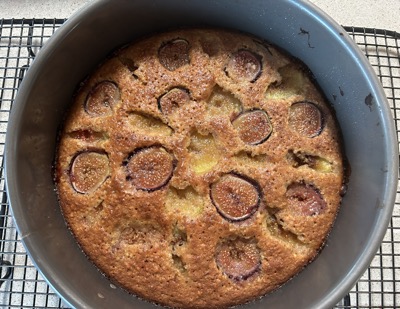 Bake cake for 30 minutes, until golden on top and just dry at the center when tested. Cool for about 10 minutes, then remove outer edge of springform or tart pan, and let cool the rest of the way. (To remove completely, place a cooling rack or plate on top of the cake, flip it, and remove the bottom of the pan, then flip back.)
Alternatively, cut and serve warm, with ice cream if desired.