Grilled chicken gets a sweet-spicy spark of flavor from watermelon salsa.
What better way to end summer than with spicy watermelon salsa?
This combination makes the most of watermelon's savory side while retaining its juicy sweetness. Watermelon salsa is a refreshing warm-weather topping for grilled chicken breasts. (It's also great with pork tenderloin or sturdy tortilla chips.)
Grilled chicken breasts with watermelon salsa
Makes 2 servings
Ingredients:
¼ cup white wine
¼ cup olive oil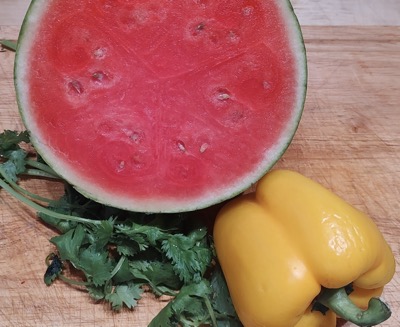 2 tablespoons balsamic vinegar
½ teaspoon seasoning salt
½ teaspoon coarse black pepper
2 chicken breasts, skinless and boneless
Instructions:
In a shallow dish, mix together wine, olive oil, balsamic vinegar, seasoning salt and pepper.
Pat dry chicken breasts and place in marinade, turning to coat. Refrigerate chicken breasts in marinade until ready to grill, at least 30 minutes.
Heat grill to medium. Grill chicken breasts for about 20 minutes, turning once, until done and juices run clear.
Serve chicken immediately with watermelon salsa.
Watermelon salsa
Makes about 4 cups
Ingredients:
1 tablespoon olive oil
2 tablespoons lime juice
½ teaspoon garlic salt
1 teaspoon crushed red pepper
1/3 cup cilantro, chopped
1/3 cup onion, diced
½ cup yellow or green bell pepper, diced
1 Hatch or Ortega chile, chopped (about 2 to 3 tablespoons)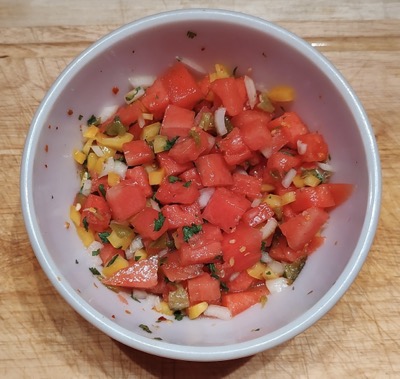 3 cups watermelon, cubed and seeds removed
Instructions:
In a medium bowl, mix together olive oil, lime juice, garlic salt and crushed red pepper. Stir in chopped cilantro, onion, bell pepper and chilies. Fold in cubed watermelon. Chill until ready to use.
Note: Refrigerate extra salsa for later use.