The dark cherries have colored the peaches, but they're in there, adding flavor and texture.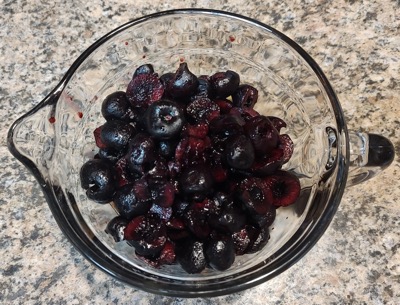 This cobbler makes the most of summer stone fruit and berries. It mixes and matches what's on hand. For example, I used two yellow peaches and a pound of late cherries. Colorwise, the peaches tended to blend in with all the red cherry juice, but their flavor and texture added their own distinct plus.
The crust is like sugary drop biscuits. Make sure your baking dish is deep enough for the bubbling fruit as it cooks. When serving, drizzle some of the fruit syrup over the topping. Ice cream or whipped cream is optional.
Summer fruit cobbler
Serves 6
Ingredients:
4 cups fruit (peaches, nectarines, cherries, apricots, strawberries, berries, etc.), pitted
1 cup brown sugar
1 cup all-purpose flour
½ cup sugar
1 teaspoon baking powder
½ teaspoon baking soda
½ teaspoon salt
¼ cup butter
1/3 to ½ cup buttermilk or sour milk
Butter for baking dish
Instructions:
Preheat oven to 350 degrees F.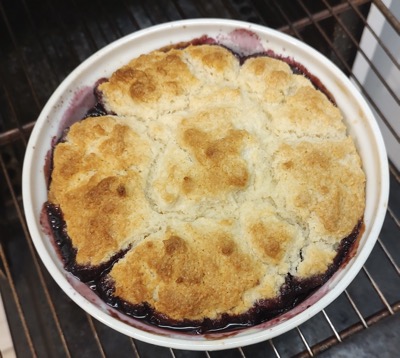 Prepare fruit. Peeling is optional. Cut larger fruit into 1-inch pieces. Halve cherries and strawberries. Mix fruit with brown sugar; set aside.
In a medium bowl, sift together flour, sugar, baking powder, baking soda and salt. Chop butter into small pieces, then blend it into dry ingredients with a fork, pastry blender or two knives. Add just enough buttermilk or sour milk to form a thick sticky dough.
Butter a 2-quart casserole dish. Pour fruit mixture into the buttered dish.
With two spoons, scoop dough into six golf ball-size pieces and place them on top of fruit, spacing dough pieces evenly apart.
Bake cobbler at 350 degrees for 45 minutes or until crust is golden and fruit is bubbly. Remove from oven and let cool at least 20 to 30 minutes.
Serve warm with ice cream or whipped cream, of desired.