Yes, there are tomatoes under that cheesy biscuit topping. This cobbler is one recipe worth turning the oven on for.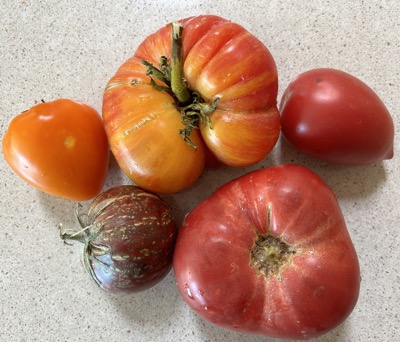 Cobbler is a summer thing, and this tomato-packed cobbler is about as summery as you can get.
Given to me by a dear friend, the recipe first appeared in Martha Stewart Living magazine, but I've tweaked it over the years, changing the tomatoes, the cheese and a few other things. Instead of several pounds of cherry tomatoes, my version uses mostly slicing and heirloom tomatoes, along with a few sauce tomatoes for thickening. I like Cheddar cheese in this, but Gruyere or Monterey jack works also.
I wait to make the cobbler until I have a good variety of tomatoes and then try to find a day when it's not too hot, because the oven has to be on for nearly an hour. However, it's worth it, believe me.
Recently I also cut down the serving size, because the first version makes too much for two people. If you'd like to check out Martha's original, which serves 6 to 8, find it here.
Tomato cobbler with cheese biscuit topping
Serves 4-6
Ingredients:
1-1/2 tablespoons olive oil
1 large onion, chopped or slivered
3 garlic cloves, thinly sliced or minced
Coarse salt and freshly ground black pepper
4 to 4-1/2 cups cored and quartered tomatoes (any combination of heirloom, slicing, paste or halved cherry tomatoes), some seeds removed, only thick skins peeled
2 tablespoons all-purpose flour
1/4 teaspoon crushed red pepper flakes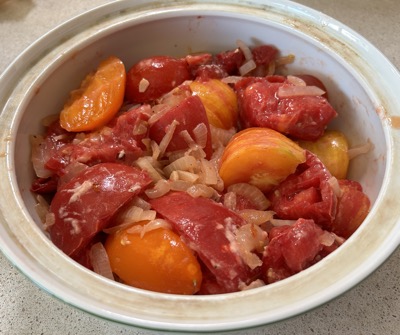 Topping:
1-1/3 cups all-purpose flour
1-1/2 teaspoons baking powder
3/4 teaspoon coarse salt
6 tablespoons cold unsalted butter, cut into small pieces
2/3 cup shredded cheese, plus 2 tablespoons for sprinkling on top
1 cup buttermilk, plus more for brushing on topping
Instructions:
Prepare a 2-quart casserole by lightly coating it with butter or oil spray. Preheat oven to 375 degrees.
In a large skillet, heat the oil over medium heat, then add the onions and cook until they are soft and starting to turn brown, about 20 minutes. Add the garlic, 1 teaspoon salt and a grind or two of black pepper, and continue cooking for 3 minutes. Let cool.
In a large bowl (or in the pan if it's big enough), toss the onion mixture, the tomatoes, 2 tablespoons flour and the red pepper flakes. Scrape the filling into the prepared casserole and set aside while you make the topping.
In a medium bowl, whisk together the flour, baking powder and 3/4 teaspoon salt. Cut in the butter with a pastry cutter or two knives, or rub in with your fingers, until small clumps form. Stir in the 2/3 cup shredded cheese, then add the 1 cup buttermilk, stirring with a fork or spatula until a dough forms. (It'll be sticky.)
Use a large spoon to place mounds of biscuit dough on top of the tomato mixture around the edge of the casserole dish, leaving the center open -- see photo at right. (If you have too much dough for your dish, the extra can be baked as drop biscuits.)
Brush the biscuit dough with additional buttermilk, then sprinkle on the remaining cheese. Bake until the biscuits are golden brown and the tomatoes are bubbling, 45-50 minutes.
Let the casserole cool on a wire rack for about 20 minutes before serving.