A strawberry fan is a fun garnish for summer berry soup. A dollop of sour cream and a sprig of mint also would make a nice finishing touch.
Let me say right up front: Fruit soup is not a smoothie. The wine in it, for one thing, makes it an inappropriate liquid to be gulping in the car on the way to work.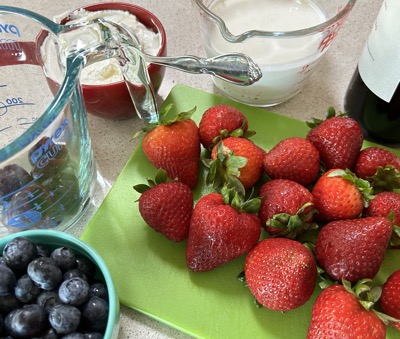 But it's a delicious starter for dinner on a hot summer night. It also can be a brunch dish or even dessert. It's quick, delicious and full of summer flavors.
Fruit soup became a thing in the 1980s as nouvelle cuisine began to influence home cooking. (It has a long history in Scandinavian cooking, but that's another post.) I discovered cold fruit soup in 1984 when Margaret Fox published her "Cafe Beaujolais" cookbook, named for the Mendocino restaurant she owned at the time.
She credits this recipe to a friend who grew the berries for the first version.
The soup became my family's favorite. I have played with the proportions and the liquidity quite a bit over the years. It's best served very cold, in chilled bowls or shot glasses.
The ingredients are flexible: Substitute Greek yogurt for the sour cream, for example, or change up the berry content. Add cherries if you have some. Be aware that if you use more than a few raspberries or blackberries, you might have more seeds in the finished dish than you can tolerate. (Puree the berries ahead of time and strain them, in that case.)
The superfine sugar suggested here is often called "baker's sugar," but it works well in liquids because it blends faster.
Want to avoid using wine in the soup? I finally found a non-alcoholic substitute with a similar bite and color: Unsweetened cranberry juice. Delicious!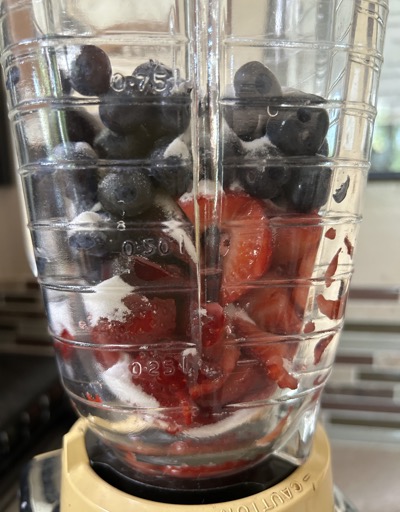 Chilled summer berry soup
Makes about 6 cups
Ingredients:
3 total cups of prepared berries or cherries (my favorite is 2 cups strawberries and 1 cup blueberries)
1/2 cup granulated sugar, superfine if available
3/4 cup sour cream or Greek yogurt (regular yogurt can be used, but drain it first, then measure)
1 cup heavy cream
1/4 cup cold water
3/4 cup fruity red wine, such as zinfandel or Chianti, or unsweetened cranberry juice
Garnish suggestions: Strawberry fans, dollops of sour cream or whipped cream, mint sprigs
Instructions:
Place the berries and the sugar in a blender and puree until mostly smooth.
Add the sour cream, heavy cream and water, and blend until combined.
Pour the mixture into a pitcher or glass serving container. Whisk in the wine or cranberry juice. Chill the soup thoroughly before serving.
Serve in small bowls or glasses with garnish of your choice.