This apricot-goat cheese appetizer can be put together quickly for a late-spring meal or event.
Apricot season is here and gone in a blink. This recipe uses fresh, ripe apricots in the easiest appetizer short of opening a bag of chips. No cooking involved!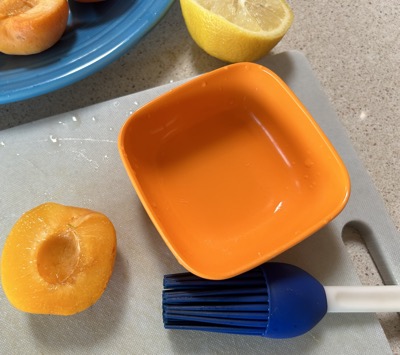 There are variation on this type of appetizer, but they all look so messy: Honey is drizzled over the goat cheese and nuts that top the apricot halves.
Why not mix the honey into the plain goat cheese? Yes, it works beautifully. Be sure to use a floral or even an herb-specific honey (such as lavender) for subtle but effective sweetening.
Use your favorite nuts. I found red walnuts being sold at the farmers market at Arden Fair. They are beautiful as well as less bitter than a standard walnuts. But chopped pistachios or sliced almonds would work equally well.
Apricot-goat cheese appetizer
Makes 12
Ingredients:
6 ripe but not mushy apricots
Lemon juice (fresh preferred)
5 ounces plain goat cheese, room temperature
2 tablespoons honey, preferably a floral variety
Pinch of salt
1/4 cup or more favorite nutmeats, such as walnut halves, shelled pistachios or sliced almonds, roughly chopped
Instructions:
Slice the apricots in half and remove the pit. Brush each half with a bit of lemon juice, to keep the apricot flesh from turning brown. then set aside the halves on a plate.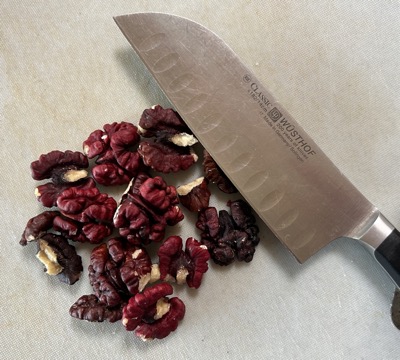 Place the goat cheese in a medium bowl, and add the honey and the pinch of salt. Whip or beat it until fully combined and somewhat fluffy. (If it is soft enough, you'll be able to whip the honey into it with a spatula or spoon. If it's still a bit firm, use a hand mixer or immersion blender.)
Place the goat cheese mixture in a pastry bag with any tip or in a large zipper-lock plastic bag, then cut the corner off. (Make sure the bag is sealed, by the way.) Pipe about a teaspoon of the goat cheese into the center of the apricot halves (more for large apricots -- there will be plenty of filling).
Top each with a sprinkle of chopped nuts. The appetizers can be served immediately, or refrigerated for about an hour if working ahead.