Strawberries macerate in sugar before they are quickly cooked into a small batch of lemony-sweet preserves.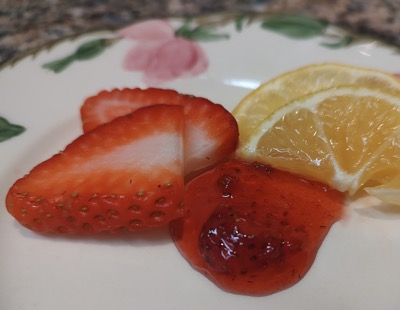 Sometimes I have the urge to make jam but not too much – especially if I have limited fruit. These easy preserves take only 1 pound of strawberries, 2 cups of sugar and one Meyer lemon – no added pectin necessary.
Compared to jam, preserves have larger pieces of fruit – even whole small berries. Larger strawberries are quartered or sliced.
This recipe does take a little advance planning. To bring out their juice, the strawberries need to sit in the sugar for six hours (or overnight). This process helps the berries retain their bright red color.
Added just before cooking, the Meyer lemon juice and zest add a bright, sunny note to the berries.
The result is soft and spreadable. Keep the finished preserves in the refrigerator.
Sunny strawberry-Meyer lemon preserves
Makes about 1 pint (2 cups)
Ingredients:
1 pound strawberries, washed, hulled and quartered (about 2 cups)
2 cups sugar
Zest of 1 Meyer lemon
2 tablespoons Meyer lemon juice
Instructions:
In a large stainless steel or non-reactive bowl, mix strawberries with sugar. Cover and refrigerate for at least 6 hours (or overnight), stirring occasionally.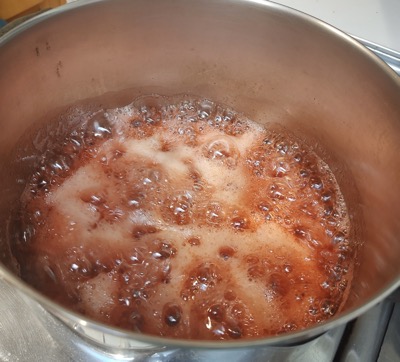 Transfer berries, sugar and syrupy juice to a large heavy pot. (It needs room to bubble.) Add lemon zest and juice.
Over high heat, bring strawberry mixture to a boil, stirring often so it doesn't stick or burn. Let boil for 1 minute. Reduce heat to medium and let preserves simmer, stirring often, until desired consistency (about 10 to 15 minutes).
Remove from heat and transfer to a sterilized jar or other container. Cover and store in the refrigerator. May be frozen up to 6 months.
When is jam (or jelly or preserves) ready? To test consistency, freeze a small plate in the freezer for at least 10 minutes. Spoon a ½ teaspoon of preserves onto cold plate and return it to freezer. Check in 2 minutes. If the jam/jelly/preserves doesn't run when the plate is turned sideways, it's done.