A sprinkling of confectioner's sugar tops this puffy ricotta pancake packed with cherries and blueberries.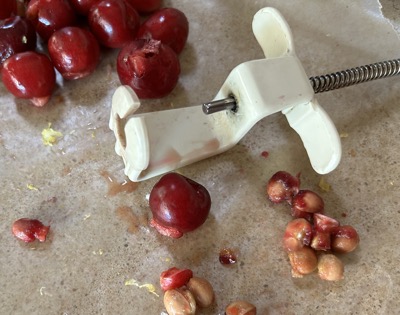 Cherry season is here, and while we wait for those glorious Bings to eat fresh, we can enjoy the early varieties in baked goods.
This skillet-baked dish falls between clafoutis – the traditional French dessert that uses whole, unpitted cherries – and a baked German pancake, aka "Dutch baby." The ricotta cheese in the batter gives it a little more heft, appropriate for brunch.
The batter is easily mixed in a blender, and can be made ahead and refrigerated overnight, for even more ease. Bring it to room temperature while preheating the oven and pitting the cherries. I tossed in some blueberries because I like that fruit combination, but feel free to use raspberries as well, or just go with all cherries.
The lemon helps cut the richness of the ricotta, but if you're using almond milk instead of dairy milk, lean in on that flavor, adding ½ teaspoon of almond extract and skip the lemon zest.
One more note: This recipe is sized for a 10 ½-inch cast iron skillet, so if you use a larger pan, the pancake will be thinner and may cook faster. To get the thicker pancake in the larger pan, add another egg, ¼ cup more ricotta, 1 tablespoon more flour, 2 tablespoons more milk and bump the fruit amount to 2 cups.
Baked cherry-berry ricotta puff pancake
Makes 4-6 servings
Ingredients:
4 eggs, room temperature
1 cup ricotta cheese
6 tablespoons milk, dairy or non-dairy
1 teaspoon vanilla extract
Zest from 1 large lemon or 2 smaller ones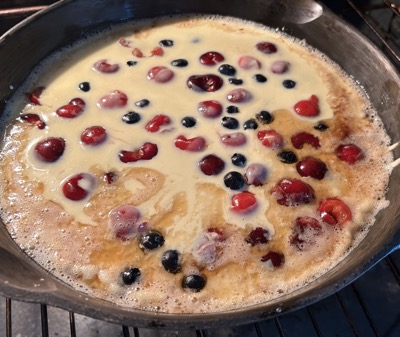 ¾ cup all-purpose flour
¼ cup granulated sugar
½ teaspoon baking powder
½ teaspoon salt
1-½ cup total prepared fruit, such as 1 cup pitted cherries and ½ cup blueberries, or any fresh fruit, cut into bite-size pieces
3 tablespoons unsalted butter
Instructions:
Preheat oven to 425 degrees F. Place a 10-½ inch cast iron skillet or similar-size ceramic baking dish (a 9-by-9 pan, for example) in the oven while it's heating.
In a blender, combine the eggs, milk, vanilla, and lemon zest until smooth. Add the flour, sugar, baking powder and salt, and blend on a medium speed until smooth. Let the batter rest while you prepare the fruit.
When ready to bake, add the butter to the hot skillet and swirl it around the bottom. Pour in the batter, then scatter the cherries or other fruit over the batter. (I did this while the skillet was still on the oven rack, but you might want to move the pan to an oven-safe surface, then return it to the oven.)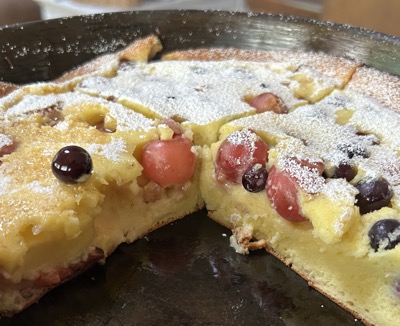 Bake for 10 minutes, then check to see that the pancake is browning evenly. Reduce heat to 375 degrees and continue baking until the middle of the pancake is firm but still moist, about 5 to 8 minutes more.
Remove the pan to a cooling rack, sprinkle confectioner's sugar over the top of the pancake, then cut into slices to serve.