Cherry season finally has arrived. The early cherries are perfect to use in these muffins.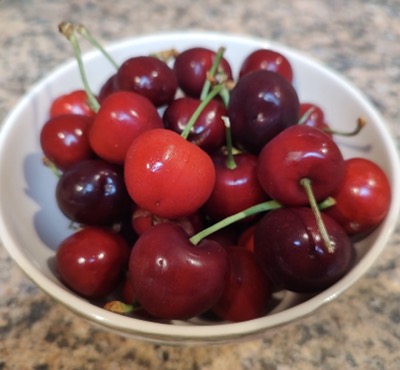 Cherries have finally arrived in local farmers markets. This season's crop was weather delayed at least three weeks by our cool spring. But they're ripening rapidly now in mid-May heat.
The earliest cherries typically aren't the sweetest, but they're still bursting with juiciness and cherry tartness. That makes them ideal for these easy muffins, studded with cherry "bombs."
Almonds are a natural complement to cherries. Almond flour adds richness and moistness to the batter as well as a subtle nuttiness. Muffins made with almond flour also turn out a little shorter (and darker on top) tha all-wheat flour counterparts, but they're very tender – just what a muffin should be.
Demerara sugar is my favorite muffin topper. This large-grained sugar adds crunch as well as sweetness, but white sugar works well, too.
Fresh cherry-almond muffins
Makes 12 muffins
Ingredients:
1 cup all-purpose flour
½ cup almond flour
¾ cup white sugar
2 teaspoons baking powder
½ teaspoon salt
1/3 cup sour cream or plain yogurt
2 tablespoons milk
1 large egg, beaten
1/3 cup vegetable oil
1 teaspoon almond or vanilla extract
1 cup fresh cherries, pitted and quartered
¼ cup slivered almonds
2 tablespoons demerara or white sugar
Instructions: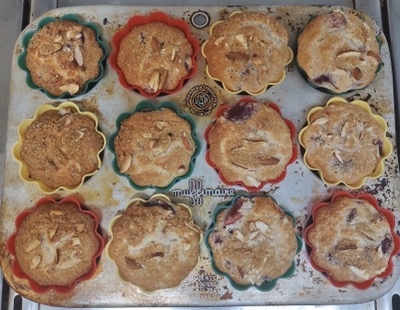 Preheat oven to 400 degrees F. Prepare a 12-cup muffin tin; either grease cups or line with paper or silicon liners. Set aside.
In a large bowl, sift together flour, almond flour, ¾ cup sugar, baking powder and salt. Set aside.
In a small bowl, thin sour cream or yogurt with milk. Add egg, vegetable oil and extract.
Using a wooden spoon, mix sour cream/yogurt mixture with dry ingredients until just moistened. Batter will be thick. Gently fold in cherries.
Spoon batter into prepared muffin cups. Sprinkle tops of muffins with slivered almonds, then sprinkle with sugar.
Bake at 400 degrees for 20 minutes or until tops are golden brown and a toothpick inserted near the center of a muffin comes out clean.
Remove from oven and let cool for 5 minutes. Remove muffins from tin and cool on rack.
Serve warm or at room temperature. Store muffins in the refrigerator.