Roasted radishes with garlic make a great side dish with grilled meats or other vegetables.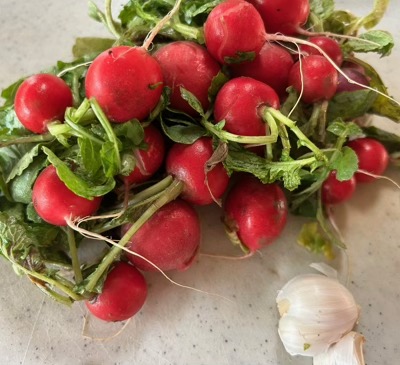 The cute little spring radishes, including the red/pink/purple/white combo dubbed "Easter egg radishes," still have a bite if eaten raw. But apply some heat to those quick-growing root vegetables via roasting and they turn delightfully mellow.
This recipe is super-easy and can be used with any type of radish. Add some minced garlic during roasting and the result is a flavorful side dish to grilled meats or other grilled vegetables (such as portobello mushrooms). The roasted radishes also can be enjoyed at room temperature as part of a salad -- ranch dressing goes particularly well with them.
Add as much garlic as you like but wait until the latter part of the cooking time so it doesn't overcook and become bitter. (Not a garlic fan? Chopped spring onions are another option.) The herbs are variable -- whatever fresh one you have much of will work, or used your favorite dried herb.
Garlic-roasted spring radishes
Serves 2 to 4
Ingredients:
1 tablespoon melted butter or flavorful vegetable oil such as avocado oil
Two to three bunches small radishes, at least 8 ounces total and up to 1 pound, washed
1/2 teaspoon kosher salt
Freshly ground pepper to taste
1/2 teaspoon dried herbs, such as parsley or oregano, or 1 tablespoon fresh herbs such as basil, chives or parsley
1 to 3 garlic cloves, minced
Instructions: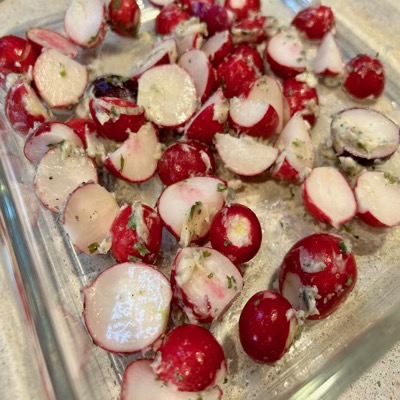 Heat oven to 425 degrees F. Remove the stems from the radishes and trim off the roots. Halve any larger radishes so that most of the vegetables are the same size.
In a bowl, combine the butter or oil, the trimmed radishes, the salt, pepper to taste, and the chosen herbs. Toss to coat the radishes evenly.
Scrape the radish mixture into a baking dish, spreading the radishes in an even layer.
Bake for 12 minutes, then stir the vegetables, add the minced garlic to the dish, and stir again.
Continue roasting until the radishes are crisp-tender, 8-12 minutes. Watch that the garlic doesn't burn.
Serve immediately or allow to cool to room temperature if adding to a salad.