Strawberries and walnuts give this quick bread its flavor.
Fresh strawberries can be beautiful one day and not so pretty the next.
Turn those less than perfect strawberries into something yummy: Strawberry quick bread.
This versatile and easy bread can brighten breakfast, provide afternoon snacks or (with a little whipped cream) become a simple dessert. Bits of strawberry are in every bite.
Fresh strawberries offer the most flavor, but this recipe can be made with previously frozen (and drained) strawberries, too.
Strawberry quick bread
Makes 1 loaf (about 12 servings)
Ingredients:
1 cup strawberries, pureed or mashed
1 tablespoon sugar
1-1/2 cups all-purpose flour
1 cup sugar
1 teaspoon pumpkin pie spice
1 teaspoon baking powder
½ teaspoon baking soda
½ teaspoon salt
½ cup vegetable oil
2 eggs, lightly beaten
1 cup walnuts, chopped
Instructions:
Preheat the oven to 350 degrees F.
Grease and flour a 9-by-5-inch loaf pan. Set aside.
Puree or mash 1 cup strawberries (about 12 large berries). Add 1 tablespoon sugar; set aside.
In a large bowl, sift together flour, 1 cup sugar, pumpkin pie spice, baking powder, baking soda and salt.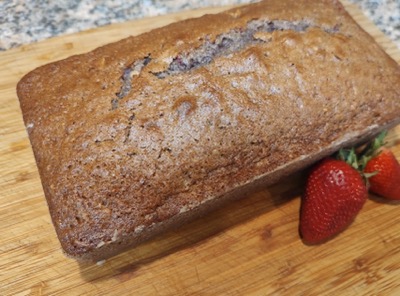 In another bowl, combine strawberries with oil and beaten eggs. Add strawberry mixture to dry ingredients and blend just until moist. Fold in chopped walnuts.
Pour batter into the prepared loaf pan. Bake at 350 degrees for 45 to 50 minutes or until a toothpick inserted near the center comes out clean.
Let cool in the pan for 10 to 15 minutes. Remove from the pan and let it continue to cool at least another 10 minutes before slicing.
Serve warm or room temperature.