This potato salad has no mayonnaise -- it gets plenty of flavor from the lemon-mint dressing.
Potatoes deserve better than to be drowned in mayonnaise salad dressing. This recipe brightens potato salad with a lively combination of lemon zest, mint, scallions, celery and just a touch of dried pepper flakes.
The combination is perfect for any spring occasion. It works especially well for a picnic or potluck -- no worries about the mayo spoiling!
For best flavor, let the salad rest in the refrigerator or a cool kitchen for a few hours before serving, or chill overnight before bringing it to room temperature. Change up the herbs if you don't like mint -- try parsley or tarragon, for example. Also, the celery is there for crunch, but chopped nuts would work equally well (pistachios would be excellent). The lemon vinaigrette is about the only "must use."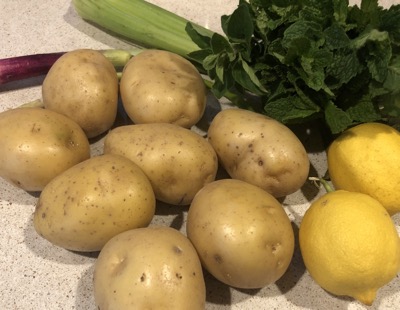 Note: Be sure to add that vinaigrette to the potatoes while they're hot, for best absorption.
Potato salad with lemon and mint
Adapted from a New York Times Cooking recipe
Serves 8
Ingredients:
2 pounds small waxy yellow or white potatoes, all about the same size (I used Yukon Golds)
Zest of 1 large lemon
2 tablespoons fresh lemon juice, plus a bit more for serving
1-3/4 teaspoons kosher salt, divided, plus more as needed
Freshly ground black pepper, to taste
1/4 teaspoon Dijon mustard
1/4 cup extra-virgin olive oil
1/2 cup sliced scallions (green onions) or spring onions or a combination, white and light green parts only
3 or 4 stalks fresh green celery, trimmed and thinly sliced
1/4 cup roughly torn fresh mint leaves, plus more for garnish
1/4 teaspoon Aleppo (Turkish) pepper flakes
Instructions:
Put the whole unpeeled potatoes into a large pot. Add enough cold water to cover them by an inch; sprinkle in 1/4 teaspoon of the salt. Cover the pot and bring to a boil over medium-high heat. Cook the potatoes until just tender, not mushy, 15 to 25 minutes (depends on size).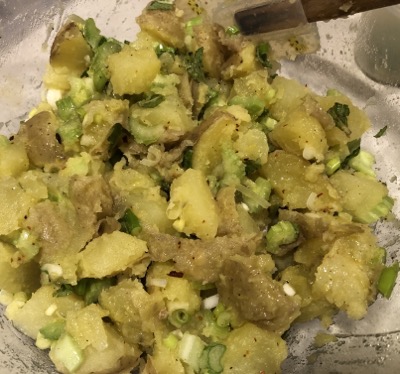 While the potatoes are cooking, make the dressing: Whisk together the lemon juice, about three-fourths of the zest, the remaining 1-1/2 teaspoons salt, the Dijon, some freshly ground pepper, and the olive oil. Set aside.
Drain the potatoes and, while they're hot, cut into 1-1/2 inch chunks. (Be careful with this! I dumped them into the bowl from the colander, and used a knife to cut them in the bowl, touching the potatoes as little as possible.)
Transfer the potato chunks to a bowl if you haven't already done so. Toss with most of the dressing, plus the sliced scallions, celery, mint, and Aleppo pepper flakes.
Let the salad cool to room temperature, or refrigerate for several hours. Add a little more vinaigrette if the salad seems too dry.
Just before serving, sprinkle on the rest of the zest, a little more lemon juice, some mint leaves and, if desired, more Aleppo pepper flakes.