I like my hash in patties with a crispy crust. I also like roast beets. Combine the two and you have a colorful, flavorful breakfast.
Purple flannel hash is what happens when you put red flannel hash in the food processor. An old-school New England favorite, red flannel hash adds cooked beets to corned beef hash; the nickname comes from the red color of both ingredients. The vegetables and meat are cubed and cooked in the oven or a skillet until crispy.
Red flannel hash stays red because the beets don't get a chance to truly mingle with the other ingredients. The food processor lets loose the beets' wonderful color and tints all the other ingredients.
That purple color is especially useful when mixing roast beef or corned beef; with beet juice, they blend together. It also brightens up all-roast beef hash, which can tend to look grayish.
I use seasoning salt in this recipe in part because I can see it after I add it to the patties.
Serve topped with eggs (or not) as you like it.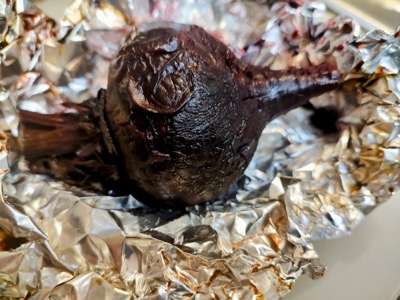 How to roast beets: Set oven to 400 degrees F. Clean beets, leaving about 1 inch of top and most of the tap root. Wrap each beet individually in foil and place in a large pan or on a rimmed cookie sheet (to catch any beet juice).
Roast beets at 400 degrees until tender when pierced with a thin knife, about 50 to 60 minutes. Remove from oven and let cool. (Roast beets can be stored in their foil until ready to use.) Remove from foil and run beets under cold water. With a knife, remove top. The skin will rub right off. Remember to wear gloves while working with beets, or your hands will be purple, too.
Purple flannel hash patties
Makes 2 to 4 servings
Ingredients:
½ onion, chopped (about ½ cup)
½ pound cooked beef and/or corned beef, cut into 1-inch cubes
1 medium potato*, cooked and peeled
1 medium rutabaga*, cooked and peeled
1 large beet or 2 small beets, roasted and peeled
2 tablespoons olive oil
Seasoning salt and pepper to taste
2 to 4 fried or poached eggs (optional)
Instructions:
In a food processor, chop onion. Add beef or corned beef cubes. Process until meat is chopped to desired consistency.
Quarter the cooked potato and rutabaga. Add to the food processor with the meat and onion mixture, and pulse until roughly chopped but not mashed. Quarter the beet(s) and add to food processor.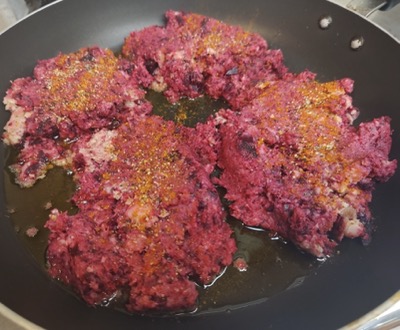 Process until beet is chopped and hash is blended, about 1 minute. (Mixture will turn bright purple.)
In a large heavy skillet, heat oil. With a large spoon, form hash mixture into patties and put into pan, flattening with the spoon or a spatula. Season patties with seasoning salt and pepper.
Cook over medium heat until patties form a crust, turning once (about 5 to 7 minutes per side).
Serve hash warm topped with eggs (optional), cooked as desired.
* May omit rutabaga and double amount of potato.