Garnish these Hawaiian-inspired pancakes with lemon and coconut.
A recent trip to Kauai inspired this twist on an old favorite – including the corn part.
While vacationing on the island's south shore, we met a corn expert from Iowa. His company was working on new corn hybrids, developed on the island's western slopes. Since most of the Hawaiian Islands never experience winter (as we mainlanders do), corn can grow year round – making it an ideal place to test new varieties.
Likely story, I thought when I heard his occupation while grilling at our beach-side resort. Who wouldn't want to escape Midwest snow to monitor corn on Kauai? But when we ventured to the west side of the island past Hanapepe and Waimea, we discovered – sure enough – vast cornfields where sugar cane once grew, all part of ag-science research.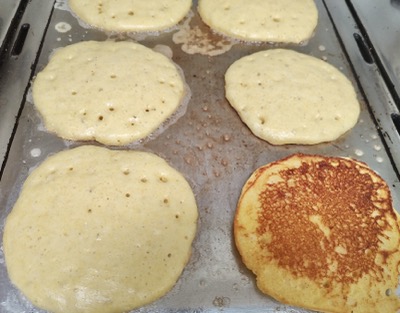 That got me craving corn cakes, but with an island twist. I wanted something as sunny as those western slopes with a little taste of the tropics, too.
When I got home to Sacramento, the combination of lemon and coconut worked beautifully in these corn cakes, lightened with lemon yogurt. The result was similar to a lemon-polenta cake. Coconut syrup was the perfect topper. Who knew that corn cakes could be tropical, too?
Lemon-coconut corn cakes
Makes 10 to 12 corn cakes
Ingredients:
½ cup cornmeal
½ cup all-purpose flour
1 tablespoon sugar
½ teaspoon salt
½ teaspoon baking powder
½ cup lemon yogurt
½ cup low-fat milk
1 egg
2 tablespoons lemon juice
1 tablespoon lemon zest
1 teaspoon baking soda
2 tablespoons vegetable oil or melted butter, cooled
½ cup flaked or shredded coconut plus more for garnish
Butter for griddle
Instructions: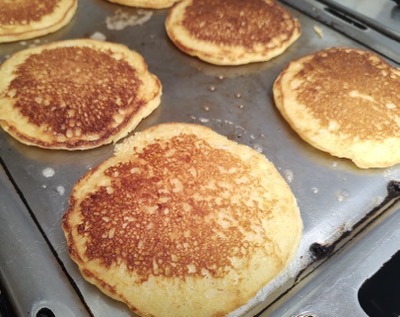 In a mixing bowl, sift together cornmeal, flour, sugar, salt and baking powder. Set aside.
In a smaller bowl, mix together yogurt and milk. Beat in egg. Add lemon juice, zest and baking soda.
Add yogurt-lemon mixture to dry ingredients. Stir until just combined. Add oil or melted butter. Fold in coconut.
Heat griddle and melt butter. Ladle batter onto griddle, spacing cakes apart; corn cakes will almost double in size. When bubbles form on top (about 2 or 3 minutes), flip cakes. Cook another 2 to 3 minutes. Remove from griddle and keep warm.
Serve with butter and coconut syrup. Top with shredded coconut, if desired.
Coconut syrup: In a small saucepan, combine ½ cup coconut milk and ½ cup sugar. Over medium heat, bring to boil, stirring often. Boil 1 minute. Remove from heat. Store in refrigerator.