A sprinkle of powdered sugar is the final touch for Meyer lemon bars with almond crust.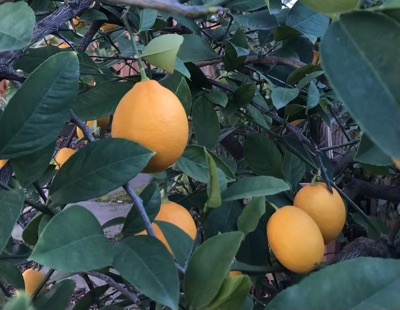 It's Meyer lemon season and time to celebrate these juicy little marvels. Believed to be a cross between a mandarin and a standard lemon, Meyer lemons tend to be small with smooth skin. Naturally sweet, they're packed with lemon flavor but no bitterness.
Which makes Meyer lemons ideal for lemony desserts; not as much sugar is needed to balance their acidity.
Here's a lemon bar variation that makes the most of the Meyer lemon difference. Eureka or other standard lemons may be substituted, but the filling will be tarter and not quite as sublime.
Chopped almonds and almond flour pack the shortbread crust with almond flavor – a nice complement to the Meyer lemon filling. A little bit of all-purpose flour added to the filling helps create a delicate top "crust." A dusting of powdered sugar is optional.
Because Meyer lemons are small, you'll need two (maybe three) lemons for this recipe.
Meyer lemon bars with almond shortbread crust
Makes 16 bars
Ingredients:
For crust:
½ cup salted butter, room temperature
½ cup powdered sugar
¾ cup all-purpose flour
¾ cup almond flour
¼ cup almonds, chopped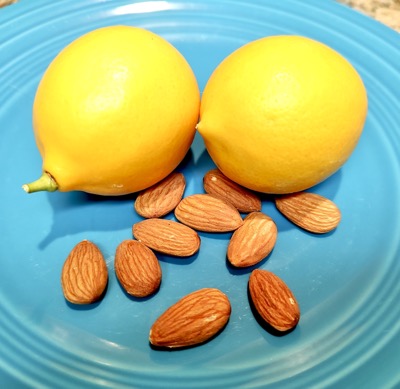 For filling:
2 eggs
1 cup sugar
½ teaspoon baking powder
2 tablespoons all-purpose flour
¼ cup Meyer lemon juice
1 tablespoon Meyer lemon zest
More powdered sugar for dusting (optional)
Instructions:
Preheat oven to 350 degrees F.
With a mixer, beat butter until fluffy, about 30 seconds. Add ½ cup powdered sugar and mix to combine. Add ¾ cup flour and the almond flour; mix to combine. Fold in chopped almonds.
Line an 8-by 8-by 2-inch deep pan or baking dish with parchment paper. Press the crust mixture into the pan, using the bottom of a glass or spatula.
Bake crust in 350-degree oven until top is light golden brown, about 15 to 20 minutes.
While the crust is baking, prepare the filling. In a medium bowl, beat eggs with mixer until creamy. Add 1 cup sugar, baking powder and remaining flour. Beat to combine. Add lemon juice and zest. Beat to combine; filling will be light and creamy.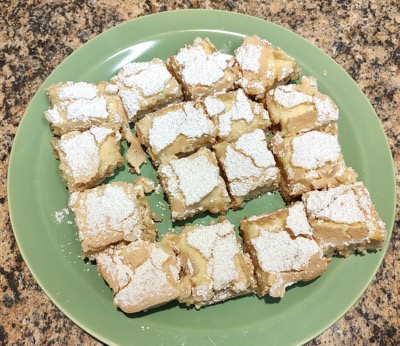 When ready, remove crust from oven and cool slightly (1 or 2 minutes). Pour filling over crust and return pan to oven. Bake at 350 degrees for another 20 to 25 minutes or until top is light brown at the edges and a delicate crust has formed.
Remove from oven and cool on rack. Carefully remove from pan by lifting up parchment paper and transferring to a cutting board or large plate. Pull down paper around outer edges. Sift 2 or 3 tablespoons of powdered sugar over top. Cut into 2-by-2-inch bars. Transfer bars to another plate to continue cooling. Serve at room temperature.