Top a baked apple with whipped cream for dessert, float a little cream around it for brunch, or enjoy it plain for a warming breakfast.
The citrus crop is coming in, but I'm not done with apples yet. A recipe by cookbook author Dorie Greenspan, which she says originated with her mother, recently popped up on my news feed, sounding delicious and comforting in all this bleak weather.
Why had I never made baked apples? It was time to try. I took Dorie's mother's recipe as a jumping-off place. The result was satisfyingly sweet without having to make pastry or use a lot of sugar. Just a bit of whipped cream turned it into dessert, but served alone the apple was wonderful for breakfast.
Note: The choice of apple makes a difference in the baking time. Dorie recommends Rome apples, which are too soft for eating but excellent for baking. I had a drawerful of Honeycrisps, a great all-purpose apple, so decided to give those a whirl. Pink Lady apples also would be good, I think.
I used the combination of an apple corer and a melon ball scoop to core the apples, since it's important not to cut through the bottom of the apple. (The juices escape if they're cut.) The corer cut the shape and the scoop got the core out in controllable bits. Be sure to remove the seeds but stop scooping after that.
Adjust the filling to personal preference. We're not big fans of raisins in baked goods, so I chose dried cranberries. Dried cherries or currants or even dried blueberries would be excellent, too. Chopped walnuts or other nuts is another option.
Smaller bottles of cider can be harder to find than apple juice, which I think is too sweet for this. But we had some sparkling cider left over from the holidays, so I popped open a bottle, poured out 1 cup and let it go mostly flat before using it as the cooking liquid. Win!
Baked apples
Serves 4
Ingredients:
4 apples the same size -- Rome, Honeycrisp, Pink Lady, or your favorite (but avoid Granny Smiths)
1 tablespoon butter, soft but not melted
1 tablespoon brown sugar, packed
2 tablespoons dried cranberries, raisins, currants or other dried fruit or nuts (chopped if pieces are large)
1 teaspoon minced crystallized ginger or premade bits (optional but delicious)
1/2 teaspoon cinnamon or nutmeg
Pinch of salt
1/2 of a lemon, cut into 4 wedges
1 cup apple cider (sparkling can be used; allow to mostly flatten)
1 to 2 teaspoons honey
Instructions:
Heat oven to 375 degrees. Place a sheet of parchment paper or foil on a shallow baking sheet, and set a 9- or 10-inch glass pie plate on it.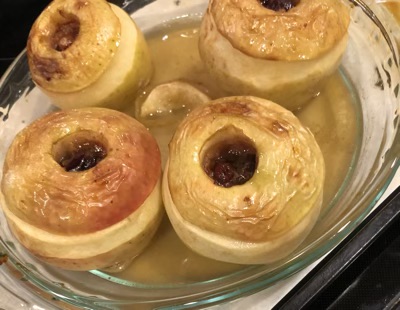 Using a corer, melon ball scoop or small knife, remove the cores of the apples without cutting through the bottoms. (See comment above.) Then slice a small cap off each apple, and set it aside. Cut away about 1/2-inch of peel around the top of each apple. Reserve 2 of the peels.
Run a lemon wedge around the cut part of each apple and cap, and drip a little juice into each opening. Reserve 2 of the squeezed lemon wedges.
In a small bowl, mash together the butter, sugar, dried fruit, ginger bits (if using), cinnamon and salt. Fill the apples with equal amounts of this filling. (Add a little more fruit and butter if the cores are not full.)
Put the caps back on their respective apples. Place the apples in the pie plate. Put the two reserved lemon wedges and two of the reserved peels in the bottom of the dish, and pour the cider into the dish. Add the honey to the liquid; it won't dissolve immediately but that's OK.
Bake the apples, basting occasionally with the liquid, for 50 (for baking apples) up to 70 minutes (for Honeycrisps, but check at 60), until a toothpick or skewer poked into them goes in easily.
Allow apples to cool for 15 minutes before serving. Be sure to put a little of the pan syrup in each dish; the flavor is quite wonderful.
Serve apples with whipped cream or heavy cream, if desired, and a sprinkle of cinnamon.
The apples will keep for a few days in the refrigerator and can be rewarmed in the microwave.