Apple cider flavors the glaze for this spiced apple coffee cake.
With recent storms limiting outdoor activity, it was time to do some baking, but with what? I still had some Granny Smith apples from our late fall harvest (they keep for weeks in the fridge), lots of applesauce (from the same tree) plus the last little bit of apple cider from holiday celebrations.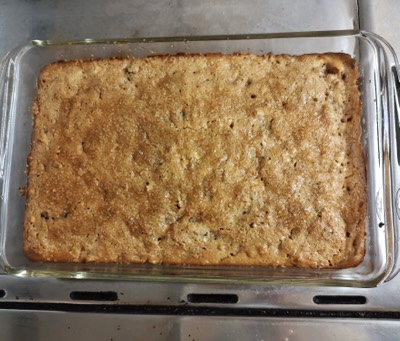 All three variations of apple go into this rich, dense coffee cake studded with dried cranberries and chopped almonds. Apple cider flavors the quick glaze.
This triple apple coffee cake is great for breakfast, dessert or snacking in between. I used Granny Smiths in this recipe, but other firm cooking apples will work, too.
Triple apple coffee cake with apple cider glaze
Makes 8 servings
Ingredients:
1-1/2 cups flour
1 teaspoon baking powder
½ teaspoon salt
1 teaspoon cinnamon
½ teaspoon ground cloves
¾ cup dried cranberries or raisins
½ cup chopped almonds
¼ cup (½ stick) butter
1 cup brown sugar, packed
1 egg, beaten
1 cup applesauce
1 cup apple, peeled and finely chopped
For glaze:
¼ cup apple cider
1 cup powdered sugar
Instructions: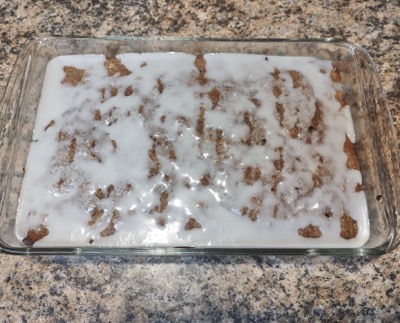 Preheat the oven to 350 degrees F.
In a medium bowl, sift together flour, baking powder, salt, cinnamon and cloves. Add dried cranberries or raisins and almonds to the flour mixture; set aside.
In a large bowl, cream together butter with brown sugar. Add egg. Stir in applesauce and chopped apple.
Gradually add flour mixture to apple mixture. Stir until relatively smooth (it will still be a little chunky).
Grease a 9-by-9-inch or 12-by-7-inch baking dish. Pour batter into the prepared dish.
Bake at 350 degrees for 45 to 50 minutes, or until golden brown and a toothpick inserted near the center comes out clean. Remove from the oven and let cool.
Prepare glaze. Warm cider in a medium saucepan over medium heat. Let cider reduce to about half. Remove the pan from heat. Sift powdered sugar and add to the pan, stirring constantly. Add a tablespoon more cider if needed. When glaze is desired consistency, drizzle over cake.