Persimmon and mandarin slices add pop to this winter salad.
Orange-hued fruit – particularly mandarins and persimmons – take the place of tomatoes in my winter salads. They add sweet and juicy contrast to crunchy greens. Their cheery flavors and colors also brighten gloomy cold days.
This salad combines shaved Brussels sprouts and spinach with fuyu persimmon and mandarins. Dried cherries and chopped pecans add more flavor and crunch. Holding all these tastes and textures together is an equally flavorful maple-mustard vinaigrette.
For this salad, choose a round apple-like Fuyu persimmon (not a pointy Hachiya) that's still relatively firm.
Fruity winter salad
Makes 2 large or 4 small servings
Ingredients:
1 cup Brussels sprouts, washed and trimmed
2 cups spinach, torn by hand
1 large Fuyu persimmon, cored and peeled
2 mandarins, peeled and separated into wedges
¼ cup dried cherries
¼ cup chopped pecans
For vinaigrette:
1 tablespoon maple syrup
2 teaspoons Dijon mustard
1 tablespoon extra virgin olive oil
2 teaspoons white wine vinegar
Salt and pepper to taste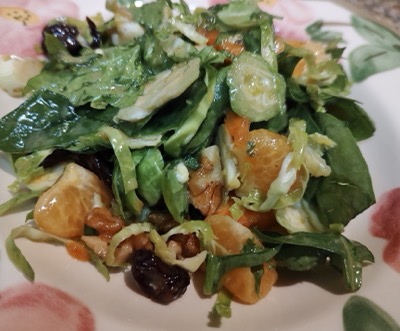 Instructions:
With a sharp knife or mandoline, slice Brussels sprouts into thin crosswise slices. Slice persimmon into thin wedges. Remove any seeds from mandarin wedges.
In a large bowl, combine shaved Brussels sprouts, torn spinach, sliced persimmon, mandarin wedges, dried cherries and chopped pecans.
Make vinaigrette. In a jar, combine all vinaigrette ingredients. Cover and shake.
Add vinaigrette to salad ingredients in large bowl. Toss gently and serve.