This elegantly decorated dining room, from a previous Holiday Home Tour, is an example of what visitors will see on the 2022 tour. Another example is below.
Photo courtesy Sacred Heart Parish School
Expect to see lots of people strolling around the Fabulous Forties this weekend as a favorite Sacramento holiday tradition returns.
After a year off due to Covid restrictions, the annual Sacred Heart Parish School Holiday Home Tour will once more busy the streets of the East Sacramento neighborhood.
"The home tour is back this year!" announced the organizers. "We will have five amazing houses for you to tour the first weekend of December. The Cafe and Boutique will also be back this year with wonderful vendors and delicious food."
A Fabulous Forties tradition since 1973, the Sacred Heart home tour went on hiatus during Covid. Last year, the school still hosted its ever-popular holiday boutique and cafe, but no designer-decorated homes – the event's main draw. Proceeds from the tour support school programs and help offset tuition for students in need of assistance.
For this return, the tour has five classic homes in its East Sacramento neighborhood, each decorated in style by local designers. Within easy walking distance of each other, the houses are located on 39th, 40th and 41st streets and Sonoma and San Miguel ways. (Addresses are available on the tour's website.)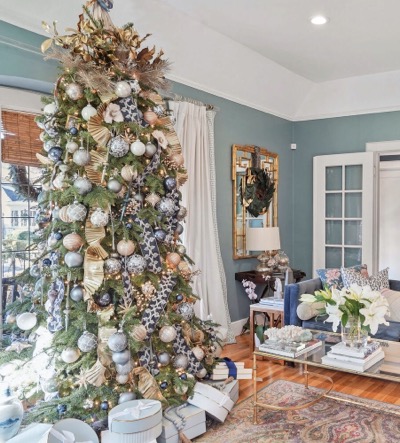 Tickets ($30) are available now online at a discount, but you'd better hurry. Online sales cut off Thursday, Dec. 1. Starting Friday, admission goes up to $35 and tickets may be purchased at Sacred Heart Parish School or home No. 1 on the tour, 1304 39th St.
Meanwhile, admission is free to the event's boutique and cafe. Held at the school, the boutique features more than two dozen local vendors and craftspeople. For a list of vendors, go to: https://sacredhearthometour.com/boutique.
"We will be having an amazing in-person boutique this year," say the organizers. "It will feature many of the vendors you have come to know and love over the years, as well as some new vendors. It's a great place to do all your holiday shopping. There is something for everyone on your list. Bring your friends and make a day of it."
Hours: Noon to 8 p.m. Friday, Dec. 2; 10 a.m. to 7 p.m. Saturday, Dec. 3; and 11 a.m. to 5 p.m. Sunday, Dec. 4.
Sacred Heart Parish School is located at 856 39th St., Sacramento.
For tickets and more details: https://sacredhearthometour.com/