Brussels sprouts and pomegranate arils combine for a perfect holiday color combination.
Photos by Debbie Arrington
Brussels sprouts and pomegranate – two late fall/early winter favorites – may seem like an unusual pairing, but this odd couple works surprisingly well in this cool-season side dish. And the color combination is perfect for the holidays.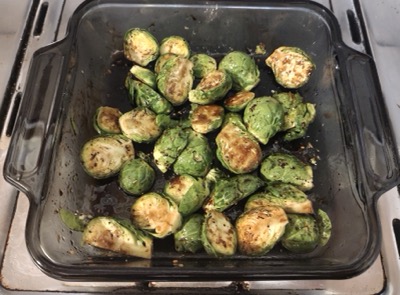 I nicknamed this dish "rubied sprouts." The pomegranate arils – the juicy seed sacs – look like little gems against the emerald green leaves of roast Brussels sprouts. Added just before serving, the pomegranate arils are warmed by the sprouts but don't burst.
Pomegranate balsamic vinegar intensifies the sweet-tart flavor. (My vinegar came from Park Winters, www.parkwinters.com.) Other fruity balsamics such as fig would work as well.
Got company coming? This recipe can be doubled or tripled; just use a larger baking dish.
Roasted Brussels sprouts with pomegranate
Makes 3 to 4 servings
Ingredients:
2 cups Brussels sprouts, trimmed and halved
2 tablespoons extra-virgin olive oil
1 to 2 tablespoons pomegranate balsamic vinegar or other fruity balsamic vinegar
1 teaspoon lemon pepper
¼ teaspoon Old Bay seasoning
¼ cup pomegranate arils (seed sacs)
Instructions:
Preheat the oven to 350 degrees F.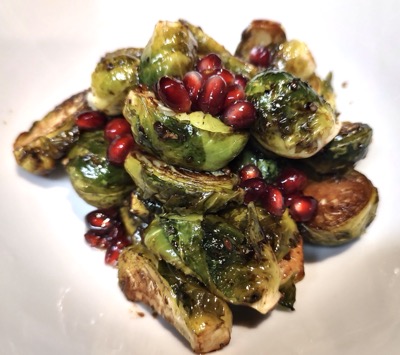 In a shallow baking dish, place trimmed and halved Brussels sprouts. Add olive oil and stir to coat. Drizzle pomegranate balsamic vinegar over sprouts and stir gently. Sprinkle sprouts with lemon pepper and Old Bay seasoning; stir again.
Roast in a 350-degree oven until fork tender, stirring once (about 30 to 40 minutes, depending on size of sprouts).
Remove from the oven. Gently stir in pomegranate arils. Serve warm.