Orange icing tops cookies made with super-ripe persimmon pulp.
With ripe persimmons come persimmon cookies.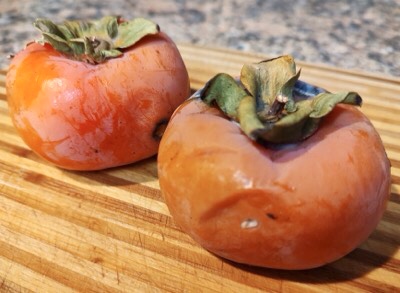 Off the tree, my Fuyus are quickly turning into sacks of jelly. That super-ripe pulp is perfect for making these old-fashioned drop cookies.
Angostura bitters intensifies the orange color of the dough as well as the fall flavors. The subtle icing tastes like orange but looks pale by comparison.
These cake-like treats can be served without icing or just a dusting of powdered sugar, too. Got lots of persimmon pulp? Make a double batch of cookies and keep some for later; these cookies freeze well.
Persimmon cookies with orange icing
Makes 3 dozen
Ingredients:
1 cup persimmon pulp, pureed
2 teaspoons baking soda
1 cup all-purpose flour
½ teaspoon salt
1 teaspoon cinnamon
½ teaspoon nutmeg
½ teaspoon ground cloves
1/4 cup (1/2 stick) butter
¼ cup shortening
1 cup sugar
1 egg
1 teaspoon vanilla
½ teaspoon Angostura bitters
1 cup raisins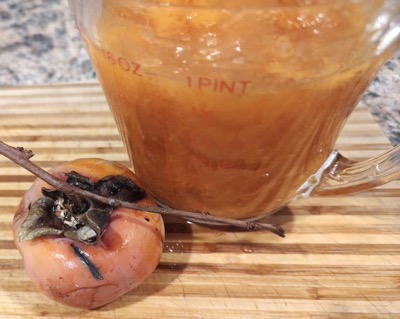 For icing:
2 tablespoons butter
2 tablespoons orange juice
1 cup powdered sugar, sifted
Instructions:
Preheat the oven to 350 degrees F.
Scoop pulp out of persimmon and mash or puree. Stir in baking soda; set aside.
Sift together flour, salt and spices. Set aside.
In a large bowl, cream together butter, shortening and sugar. Beat in egg until light and fluffy. Add vanilla and bitters.
Add persimmon pulp mixture to butter-sugar mixture. Stir in dry ingredients until just blended.
Rinse raisins with hot water. Drain well. Add to cookie dough.
Grease cookie sheets or line with parchment paper. By rounded spoonful using two teaspoons, drop dough onto the prepared cookie sheet, allowing 2 inches of space between each cookie.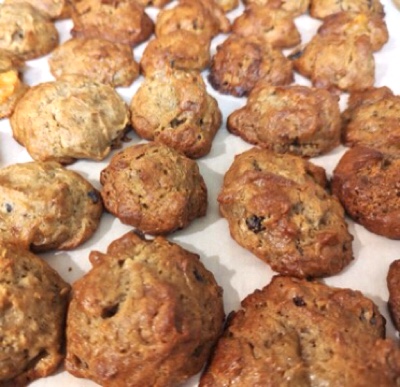 Bake in a 350-degree oven until golden brown on top, but still springy to the touch, about 13 to 14 minutes.
While cookies are baking, make icing: Melt butter. Add orange juice. Stir in sifted powdered sugar. Beat until smooth. Add a few drops more orange juice if needed.
Remove from the oven and let cool. Top with icing. Store in a covered, air-tight container.