Bake a homey persimmon pudding for a fall dessert. This one includes pecans, too.
Fall is not only pumpkin season – it's persimmon season. And right now, ripe flat Fuyus and pointy Hachiyas are showing up in farmers markets – and falling off backyard trees.
Like an apple, Fuyus can be eaten when still crisp, although they also are good for baking when super soft. But the astringent tannin in crisp Hachiyas will make your mouth pucker; this variety can only be eaten when fully ripe. How ripe? The fruit feels like a balloon full of jelly and the pulp can be scooped out with a spoon.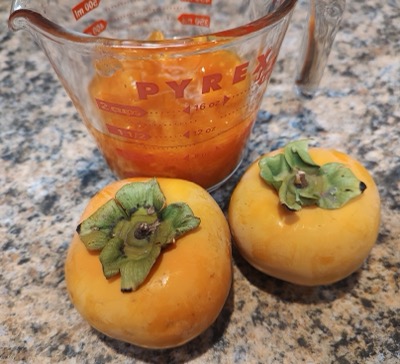 Both Fuyu and Hachiya are among several Japanese persimmon varieties that are right at home in Sacramento. Japanese varieties grow very well in our mild climate and make an attractive edible ornamental in home landscapes.
This recipe is an adaptation of an old-fashioned Southern holiday pudding that used American native persimmons (Diospyros virginiana). Like the Hachiya, the American persimmon is packed with pucker power until it reaches that super-soft stage.
The word "persimmon" actually is derived from the Algonquin name for this fruit. It grows wild from Connecticut to Florida and west to Texas and Oklahoma. Although naturally shrubby in poor soils with limited water, mature American persimmon trees can reach 100 feet tall in rich soil with good irrigation. (And when they drop their super-ripe fruit, they can make one heck of a sticky mess.)
Old-fashioned persimmon pudding
Makes 6 to 8 servings
Ingredients:
4 tablespoons butter, softened
1 cup sugar
1 egg
1 cup flour
1 teaspoon baking powder
1 teaspoon baking soda
¼ teaspoon salt
1 teaspoon pumpkin pie spice
¾ cup milk
1-1/4 cups persimmon pulp
½ cup pecans, chopped
Confectioner's sugar
Butter to grease baking dish
Instructions:
Preheat the oven to 325 degrees F.
In a large mixing bowl, cream together butter and sugar until light and fluffy. Beat in egg.
Sift together flour, baking soda, baking powder, salt and pumpkin pie spice. Stir flour mixture into butter-sugar mixture, alternating with milk.
Push persimmon pulp through a sieve to remove fibrous pieces. Fold persimmon into batter. Add pecans.
Grease an 8- to 9-inch baking dish. Pour batter into the dish. Dust top with confectioner's sugar.
Bake at 325 degrees for 1 hour or until a toothpick inserted near the center comes out clean.
Remove from the oven. Let cool.
Serve with more confectioner's sugar or whipped cream, if desired.