Potato gnocchi roasted with vegetables and sausage makes an easy one-pan meal.
So it's cool enough to cook dinner in the oven, but still nice enough that I don't want to spend hours in the kitchen. Garden things to do outside, you know.
The solution: A sheet-pan meal, in which all the ingredients roast together in the oven.
This dish is a riff on a recipe from thekitchn.com. Substitutions are easy: I had Juliet tomatoes but no mushrooms, so into the pan they went. Broccoli cut small would work or green beans or whatever, but don't forget to include onions.
Gnocchi cooked in the oven is far superior in flavor and texture to boiled gnocchi. It puffs up and gets just a bit crispy – delightful.
Sheet pan gnocchi with vegetables and sausage
Serves 4
Ingredients: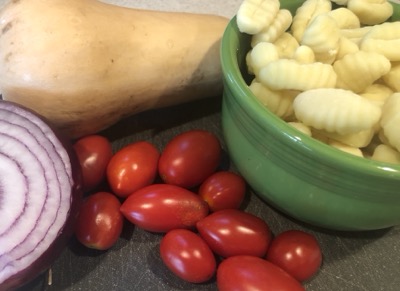 1 small butternut squash, peeled, deseeded and cut into chunks
1 small or ½ large red onion, cut into 1-inch chunks
8 ounces mushrooms, quartered, or 8-12 ounces grape or cherry tomatoes
1 package (1 pound or more) shelf-stable potato gnocchi
1 to 2 tablespoons fresh rosemary, chopped
8 to 16 ounces uncooked hot or sweet Italian sausage, in casings or bulk
2 tablespoons olive oil
1/2 teaspoon kosher salt, or to taste
Freshly ground black pepper, to taste
Grated Parmesan cheese, for serving
Instructions:
Arrange two oven racks to split the oven into thirds. Preheat oven to 425 degrees.
On a large rimmed baking pan, combine the butternut chunks, the onion and the mushrooms or tomatoes (or use both!). Sprinkle the rosemary over the vegetables, and add the gnocchi to the pan. Drizzle the olive oil over the pan, then sprinkle with about ½ teaspoon of salt and grinding of black pepper. Toss to coat.
Remove the sausage from its casings and drop bite-size chunks of it all over the vegetables and gnocchi.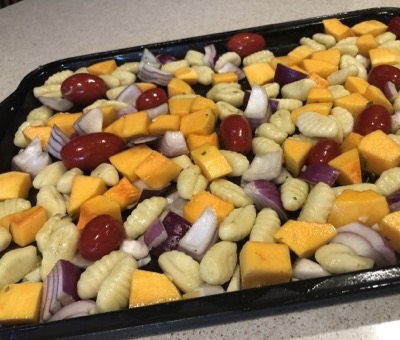 Place the sheet pan on the lower rack of the oven. Roast for about 25 minutes, stirring after about 15 minutes. The sausage should be cooked through, the gnocchi plumped and the butternut chunks tender.
Move the sheet pan to the upper rack and broil on High until the gnocchi are lightly brown and crisp. This happens quickly, about 3 minutes, so don't walk away.
Serve in large bowls and topped with grated Parmesan, if desired. A salad and a glass of zinfandel are perfect accompaniments.