Kahili ginger loves intense heat and can take some cold.
Nobody looks good at 115 degrees. But there are several perennials that thrive in triple-digit temperatures. All they need is some afternoon shade.
You might think that Sahara-like temperatures are only fit for cacti. (Desert plants don't like this much heat either.) Sacramento's hottest day ever has me considering what flowers can still bloom in ultra-high heat.
Instead of desolate desert landscapes, our current heatwave has me dreaming about tropical places; a jungle may be incredibly hot, but it's lush.
My own backyard jungle is holding its own during this heatwave, thanks to afternoon shade and deep watering. Some perennials are even blooming profusely.
My current jungle stars are the kahili ginger and hardy hibiscus. These plants don't only withstand intense heat, but chilly winter nights that may dip below 30 degrees.
Kahili ginger (Hedychium gardnerianum), native to the southern Himalayas, needs a kiss of cold to bloom. It gets that in Sacramento, producing huge yellow flower stalks in late August. With long red stamens, the feathery flowers get their nickname from the Hawaiian royal standard that symbolized power. The stalks are 6 foot tall, topped with the distinctive blooms. Worldwide, it's the most cultivated of all ginger varieties.
Hardy hibiscus looks like its tropical Hawaiian cousin but can withstand sub-freezing cold as well as triple-digit heat. The long canes (6 to 8 feet) die back in winter as the plant goes dormant.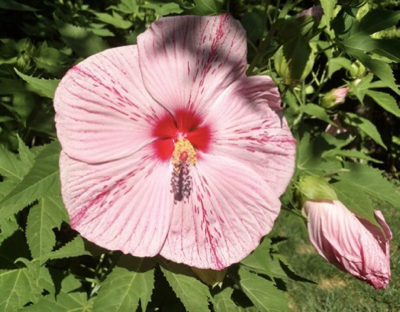 New cultivars stay more compact; only 3 to 4 feet tall. On shorter canes, these cultivars bear bigger blooms, often 8 inches across. They're hardy in Zones 4 through Sacramento's Zone 9. My favorites are two hot pinks: Peppermint Schnapps and Brandy Punch.
According to perennial specialist Proven Winners, other heat-loving perennials include sedum, caladium, euphorbia, gaillardia, coneflowers, salvia and lantana. Most can tolerate full sun, but do better in Sacramento with a little afternoon shade.
Look around in your own garden. What's thriving in this heat? You may consider growing more of that plant in summers to come.