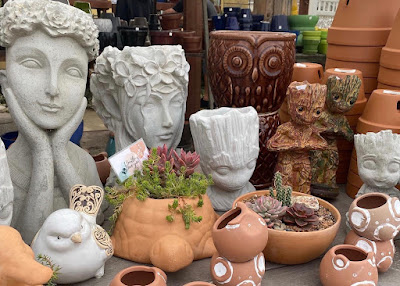 The Secret Garden carries a range of plant
containers, from plain to whimsical. The ones
that aren't quite perfect are on sale this weekend,
Sept. 2-5. (Photo courtesy The Secret Garden)
Do you like pots? How about bargains? Then this sale is for you.
All Labor Day weekend, The Secret Garden is clearing out its ceramics and terra cotta closets with its "Chips, Dings and Seconds Pottery Sale." Starting Friday, find 30% to 70% discounts on all sizes and many types of not-quite-perfect containers.
"Most have imperfections that do not affect quality," the garden store posted on its website. "They simply don't meet our retail standards."
Often those minor flaws are hard to spot, such as uneven glaze or a ding on the bottom. The Secret Garden carries a huge selection of ceramic containers in a rainbow of colors. It's a great opportunity to expand your gardening space, especially for succulents, herbs or houseplants.
Speaking of which, The Secret Garden will host another Houseplant Happy Hour on Tuesday, Sept. 6. This Happy Hour actually lasts three hours -- 3 to 6 p.m. -- and is held the first Tuesday of each month.
During that time, get 15% discounts on all houseplants and indoor pottery (including perfect pieces). Enjoy complimentary wine and snacks while browsing The Secret Garden's indoor jungle. Get houseplant advice, too.
Open daily 10 a.m. to 5 p.m, The Secret Garden is located at 8450 W. Stockton Blvd., Elk Grove. Phone: 916-682-6839.
Details and directions:
www.secretgarden-online.com
.