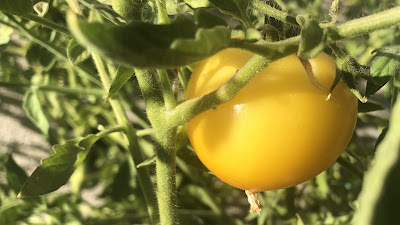 Harvesting your ripe or even nearly ripe vegetables
is a good idea ahead of our expected heat wave
this weekend. (Photos: Kathy Morrison)
We're having (another) heat wave, and this one may be of record proportions.
According to the National Weather Service, much of Northern California is under an "excessive heat watch," with some pretty ominous warnings for Labor Day weekend.
"An excessive heat watch is an extended period of dangerously hot conditions with record temperatures up to 115 possible," says the weather service. "Extreme heat will significantly increase the potential for heat-related illnesses, particularly for those working or participating in outdoor activities over the holiday weekend."
Those activities, of course, include gardening. Get any chores done early, before 9 a.m. if possible. Wear a hat and sunscreen. Stay hydrated.  Retreat to the shade or indoors as quickly as possible.
The hottest days are expected to be Sunday and Monday, but no cooldown is in sight until sometime next week.
The current NWS forecast high for Downtown Sacramento on Sunday and Monday: 112 degrees.
Nights will be warm, too, says the weather service. "There will be limited overnight relief from the heat, with lows in the upper 60s to mid 80s."
Those 112 marks, if reached, would be records, not only as the hottest Labor Day weekend on record but hottest Sacramento September days ever. Labor Day 2020 (Sept. 6, 2020) tied the current mark –  109 degrees – originally set in September 1955.
If that dire 115 degrees mark comes to pass, history is possible, edging past a nearly century-old milestone. Downtown Sacramento's all-time record is 114 degrees, set in July 1925. Sacramento Executive Airport recorded 115 degrees – South Sacramento's hottest day ever – in June 1961.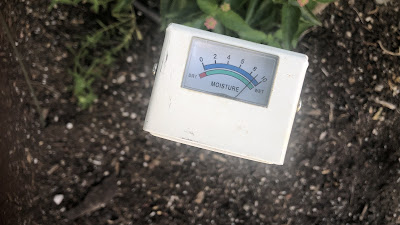 Soil moisture is a key preventive measure for plants in
a heat wave. Mulch and/or temporary shade helps, too.
Amid all this heat, remember: Plants are better equipped to handle high heat than people (or other mammals). The key is soil moisture.
Deep-water your garden early in the day or overnight. Wilting in the heat of the afternoon is normal, especially for big-leafed plants such as squash or hydrangeas. But if you see a droopy plant early in the morning, give it a drink.
Otherwise, watch out for sunburn – on you and your vegetables. Provide temporary shade to ripening peppers, tomatoes and eggplant that may be prone to sunburn. Better yet, harvest what you can before this weekend's heat. Without its fruit, the plant won't need as much water and can concentrate its energies (and moisture) on survival.
For more on heat stress and plants: http://ipm.ucanr.edu/PMG/GARDEN/ENVIRON/thermal.html .