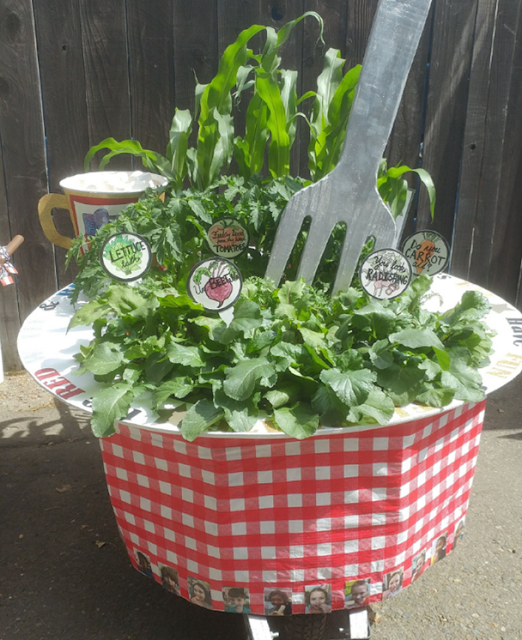 This gingham-wrapped wheelbarrow is an example of the
portable gardens entered in the Sacramento County Fair. Note
the pictures of students around the bottom of the wheelbarrow.
(Photo courtesy Sacramento County Fair)
After a two-year hiatus, the Sacramento County Fair returns this week to Cal Expo – and so does one of its most popular garden-inspired events.
Dozens of portable gardens created by local students will compete in the fair's "Farm Garden in a Wheelbarrow" contest.
"Farm Garden in a Wheelbarrow is an educational program designed to educate young children, grades K-6, about the importance of agriculture, where their food comes from and how it grows," according to fair organizers.
Making that connection is vital for kids to understand so they have a better appreciation of food and farming, especially in the Farm-to-Fork Capital.
"If our children don't understand where our food comes from, where will our food come from in the future?" say the organizers.
The program is open to both public and private schools as well as after-school programs, 4-H clubs and home school groups. Each wheelbarrow garden is a multi-month project, usually planted in winter or early spring.
What grows in a wheelbarrow? Just about anything that can sprout and root in a container. Among the favorite crops featured in these movable raised beds: Radishes, lettuce, peppers, tomatoes, beets, carrots, even corn -- plus several varieties of flowers and herbs.
Classrooms add their own often-whimsical touches to make their wheelbarrow garden stand out, such as photos of students, an over-sized fork or toy roller coaster. See for yourself; the competing gardens will be displayed in one of the fair exhibit halls.
Meanwhile, the fair will be packed with many old-time favorites such as livestock judging, horse show, free entertainment (including duck and pig races) and carnival rides. The fair also will unveil a new attraction: "Dinosaurs Throughout the Ages," featuring life-size replicas as well as "living fossils" – real reptiles such as alligators and horned lizards.
The 86th annual Sacramento County Fair runs Thursday through Memorial Day, May 26-30. Fair hours are 10 a.m. to 10 p.m. Thursday-Sunday, 10 a.m. to 7 p.m. Monday. Admission is $12; youth, ages 12-16, $10; children age 11 and younger admitted free. Seniors Day is Thursday with $8 admission for patrons age 60 and older. Parking is $10.
Cal Expo is located at 1600 Exposition Blvd., Sacramento.
Details and directions: www.sacfair.com .