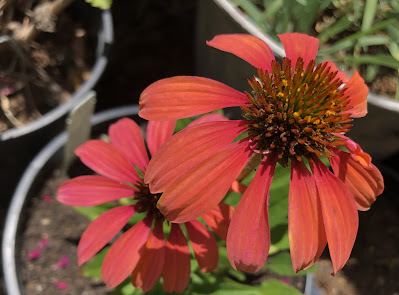 Coneflowers (echinacea) bring bright spots of color
to the summer garden. Pollinators like them, too.
(Photos: Kathy Morrison)
Dry and breezy; that's the Sacramento forecast for most of Memorial Day weekend.
After hitting triple digits this past week, we end May on the cool side with afternoons in the high 70s and low 80s. According to the National Weather Service, those mild temperatures will be fanned by breezes in the 10 to 15 mph range.
But by Tuesday, we will be back in the 90s. Normal highs for late May in Sacramento: 85 degrees.
Overnight lows will be warm all week, hovering around 60 degrees. That nighttime warmth will help heat up soil and speed up root development for summer crops.
Take advantage of mild temperatures this long weekend to get things done:
* Still got room in your vegetable garden? From seed, plant corn, pumpkins, melons, bush beans, radishes, squash and sunflowers.
* Plant basil to go with your tomatoes.
* Transplant summer annuals such as petunias, marigolds and zinnias.
* It's also a good time to transplant perennial flowers including astilbe, columbine, coneflowers, coreopsis, dahlias, rudbeckia, salvia and verbena.
*Warm weather brings rapid growth in the vegetable garden, with tomatoes and squash enjoying the heat. Deep-water, then feed with a balanced fertilizer. Bone meal can spur the bloom cycle and help set fruit.
* Generally, tomatoes need deep watering two to three times a week, but don't let them dry out completely. That can encourage blossom-end rot, which develops from uneven moisture.
* Trim off dead flowers from rose bushes to keep them blooming through the summer.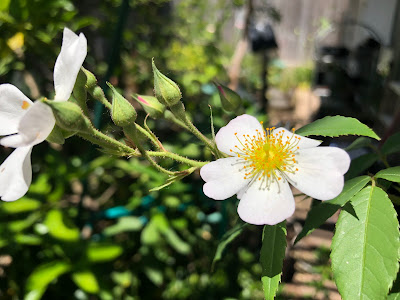 The Lyda Rose rose does well in part or full shade.



* Roses also benefit from deep watering and feeding now. A top dressing of aged compost will keep them happy. It feeds as well as keeps roots moist.
* Pinch back chrysanthemums for bushier plants with many more flowers in September.
* Tie up vines and stake tall plants such as gladiolus and lilies. That gives their heavy flowers some support.
* Dig and divide crowded bulbs after the tops have died down.
* Feed summer flowers with a slow-release fertilizer.
* Mulch, mulch, mulch! This "blanket" keeps moisture in the soil longer and helps your plants cope during hot weather.