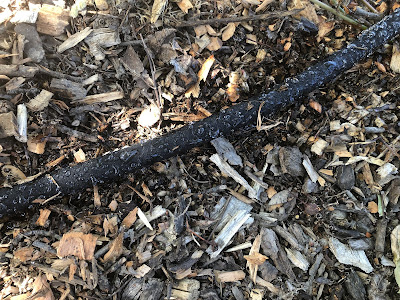 A soaker hose can deliver a long, slow drink of
water to precious trees and shrubs. Mulch helps
keep the moisture from evaporating
too quickly. If possible, position the hose under
the mulch for a better soak.
(Photo: Kathy Morrison)
How dry are we? Our lack of rain is taking on historical proportions.
According to the National Weather Service, Sacramento has recorded its driest first five months in 128 years. That's how long the weather service has been keeping track of our rain totals.
And so far in 2022, those totals have been mighty bleak. Since Jan. 1, downtown Sacramento has recorded just over 2 inches – 2.01 – in total precipitation, says the weather service. That includes 0.06 for all of May. Normal for May: 0.84 inches.
Rain totals for March (0.94) and April (0.96) were less than 1 inch for each month. That followed a rainless February and a nearly dry January (0.05).
Sacramento's normal rainfall total for the first five months: 12.6 inches. That's almost a 10.6-inch shortfall. (And yes, that means we are in a drought – again.)
Don't expect much June precipitation to add to those totals. Sacramento's June rainfall averages 0.21 inches – or one good summer cloudburst. According to the weather service, there's a 25% chance of showers Sunday, June 5, but it will only be a drizzle (if it materializes) – 0.03 inches.
That lack of good soaking rain can mean rock-hard soil – particularly in areas without regular irrigation. Without a source of moisture, roots of trees and shrubs tend to die back, weakening the plant and causing instability.
To save your landscape, deep-water trees and shrubs. Give them a long, slow drink with a soaker hose.
Lack of moisture also increases fire danger. Grasses and other vegetation in unirrigated pastures and wilderness areas have already dried out and browned to a crisp. One spark can start a wildfire.
In breezy conditions (such as this week), avoid mowing dry grass or using power tools that may strike a rock and spark.
May also continued a trend of warmer than usual weather. Daily highs averaged 83.6 degrees, 2.4 above normal.
What can we expect in June? Besides mostly dry days, June averages highs of 87 degrees and lows of 56. But triple digits are not uncommon. The hottest June day on record in Sacramento: 115 degrees.
For more on Sacramento weather: https://www.weather.gov/sto/#