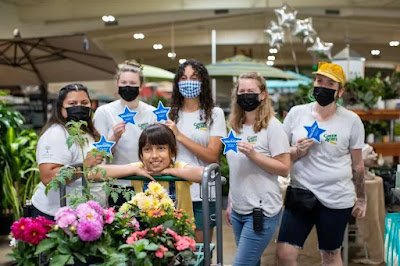 Green Acres clerks show off their Make-A-Wish pledge
stars. (Photo courtesy Green Acres Nursery & Supply)


Twenty wishes in 20 days; that's the goal of a new fundraising campaign at Green Acres Nursery & Supply.
At the same time, Green Acres is trying to make furry dreams come true with two more pet adoption days.
Through June 20, Green Acres is teaming up with Make-A-Wish Northeastern & Central California and Northern Nevada to raise enough money to grant 20 wishes for critically ill children in the greater Sacramento area. Customers may donate in person at the checkout counter when visiting Green Acres' seven locations or they may donate online here:
https://bit.ly/3x4xBhI
.
Green Acres has pledged up to $100,000 in a matching donation to equal its customers' contributions.
Raising $100,000 in less than three weeks sounds like a daunting goal, but the Sacramento-based nursery company has done it before.
"Thanks to the generosity of our customers, we were able to reach this goal in 2021, so let's do it again!" says Green Acres.
"Since 2009, Make-A-Wish has granted life-changing wishes for children in our community, including some from our own Green Acres family," add the organizers. "The funds that are raised will go directly to granting wishes of local children battling critical illnesses."
The average cost of granting a wish is $10,000, says the local chapters of Make-A-Wish. Currently, 232 children in the greater Sacramento area are waiting for their wishes to be granted.
Learn more and make your donation today by visiting
https://mawcanv.com/GreenAcres
.
Also in June, Green Acres will host two "Dog Days" pet adoption events: June 4 at Elk Grove (9220 E. Stockton Blvd.) and June 11 at Folsom (205 Serpa Way). Both Saturday events will be held from 11 a.m. to 1 p.m.
Green Acres will contribute $100 towards adoption fees for any animals adopted during the events. Taking part in the Elk Grove adoption event will be three rescue agencies and shelters: A Place Fur Rescue, Team Bradshaw and NorCal Freedom for Paws. At Folsom, Greater California German Shepherd Rescue and NorCal Cocker Rescue will join A Place Fur Rescue and NorCal Freedom for Paws.
For details:
www.idiggreenacres.com
.