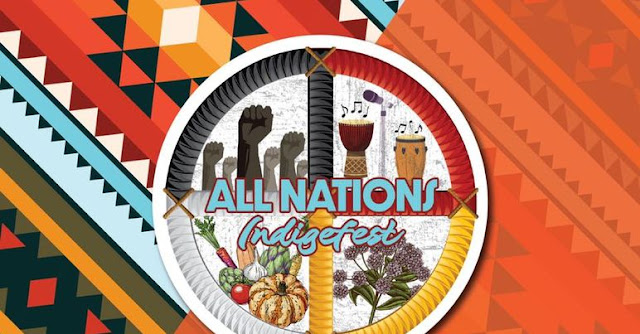 Three Sisters Gardens will host Indigefest, a fundraiser for its youth and urban farming program. (Artwork courtesy of Three Sisters Gardens)

This garden party spotlights the first farmers of California – Native Americans.
On Saturday, June 11, Three Sisters Gardens will host its first annual Indigefest, a "celebration of all nations coming together through art, music, food, culture and resources," say its organizers. From noon to 6 p.m., the event will be held at Three Sisters' River City Farm in West Sacramento.
Admission is free, but donations are welcome. Guests may order meals ($20) in advance from one of several participating food trucks or pay at the event.
Three Sisters derives its name from the "three sisters" of Native American farming – corn, beans and squash. Traditionally, the three crops are grown together, nurturing and supporting each other.
As an urban farming program, Three Sisters nurtures local youth while bringing organically grown food to its community. Indigefest marks the organization's accomplishments so far while raising funds to do more.
"It has been an amazing journey, building and growing with our community," say the organizers. "We have accomplished so much and have to take time to enjoy the fruits of our labor together. Please join us as we uplift and celebrate art, music, food and culture."
In particular, Indigefest supports Three Sisters' Agricultural Youth Leadership Development program.
"Through the urban farm apprenticeship program, youth impacted by the criminal justice system and Native youth will learn the skills they need to become leaders in their communities," say the organizers. "Their experience will include hands-on training in organic agriculture, business operations and logistics, and community outreach. The program will also provide opportunities for further job skills development with other local organizations and curriculums."
Indigefest will feature farm tours, live music, games, crafts, a fashion show and lots of food. River City Farm is located at 485 Regatta Lane, West Sacramento.
Details:
3sistersgardens.com.