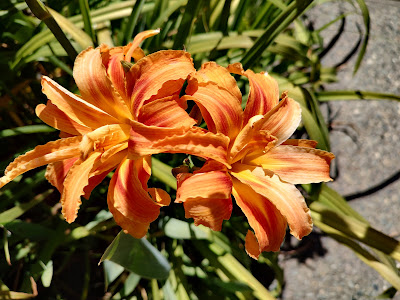 This beauty came from the Amador Flower Farm, which
presents its annual Daylily Days this weekend. (Photo:
Debbie Arrington)
See a million flowers blooming in one place – and that's no exaggeration.
It's time for Daylily Days at Amador Flower Farm and the namesake daylilies are cooperating. Expect to see a spectacular display on Saturday and Sunday, June 18 and 19. Admission and parking are free. (Sorry, no pets.)
Located in Amador's wine country near Plymouth, the 14-acre destination daylily farm grows more than 1,200 varieties of daylilies – with most now in bloom. Its fences are lined with tens of thousands of plants; row after row of daylilies roll over its oak-studded hills.
During this special event, enjoy free tram tours. Stroll in the flower fields and demonstration garden, then find some shade under the oaks. It's an ideal spot to picnic, too, and part of Daylily Days is a barbecue.
"There will be hourly gardening demonstrations, garden art artisans, and idea gardens full of unique perennials to delight visitors," say the organizers. "Gardening demonstrations about daylilies, the art of bonsai, and unusual air plants will interest curious gardeners."
Don't forget lunch! "Food will be available for sale from our local 4H kids," adds the flower farm. "They're fundraising by cooking up hamburger and hot dog lunches that include chips and a bottle of water for $6, or folks are welcome to pack a picnic."
Amador Flower Farm "is alive with color at this time of the year as the daylilies explode in shades of red, orange, yellow, pink, purple and more," say the organizers. "Stroll the garden paths, find inspiration for your own garden, relax under the oaks, and join in celebrating the daylily!"
Daylilies are fantastic water-wise perennials that can withstand Sacramento's heat while offering vivid color in the early summer landscape. During Daylily Days, learn how to incorporate these plants into your garden.
At the farm's nursery, hundreds of potted daylily plants will be offered for sale. Find a favorite flower in the fields, then take it home; many popular varieties will be available.
Daylily Days will be 9 a.m. to 4 p.m. each day. About an hour from downtown Sacramento, Amador Flower Farm is located at 22001 Shenandoah School Road, Plymouth.
Details and directions: www.amadorflowerfarm.com .