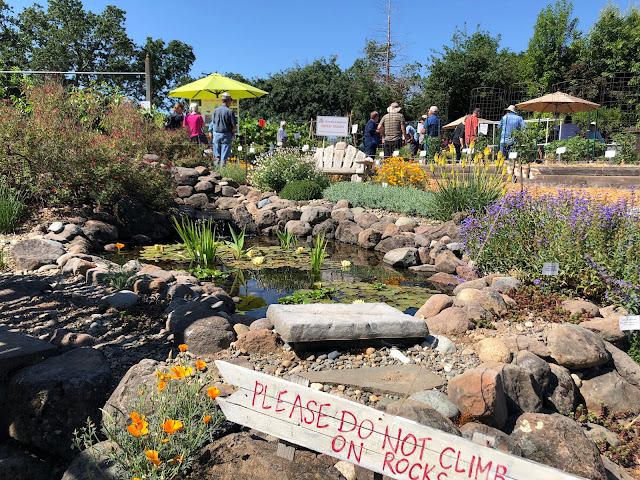 It should be a beautiful day Saturday for the Open Garden at the Fair Oaks Horticulture Center. (Photo:
Kathy Morrison)
It's June, and the Fair Oaks Horticulture Center is bursting with activity in all areas. The Sacramento County master gardeners are ready to show what almost-summer looks like at their beautiful demonstration garden this Saturday from 9 a.m. to noon.
Master gardeners will be available in all areas of the FOHC to answer questions. The weather should be perfect for strolling -- a high of 77 degrees is forecast.
These are some of the activities that visitors can expect, the master gardeners note:
-- Water-Efficient Landscape Gardens: Methods of using water wisely.
-- Herb Garden: Harvesting, gathering seeds and drying herbs.
-- Orchard: Fruit thinning and summer pruning.  Check out how the Orchard Team protects fruit from critters.
-- Berries: Ever tickled a blueberry? The Berry Team can show how to do it.
-- Vegetables: Methods for managing unwanted pests with the most recent research-based sustainable practices.  Check out how the vegetables are growing.
-- Vineyard: Managing the grape canopy, shoot, leaf and cluster thinning for a vigorous crop.
-- Compost  Embrace composting in day-to-day household activities by recycling fruit and vegetable scraps and yard trimmings.  Find out how easy backyard composting can be.  Learn about California's new food waste composting law, too.
The Horticulture Center is at 11549 Fair Oaks Blvd., Fair Oaks, south of Madison, in Fair Oaks Park, next to the Fair Oaks Library.
This will be the last Open Garden before the Aug. 6 Harvest Day celebration at FOHC. The Sacramento County master gardeners will be back at their booth to answer gardening questions during the State Fair, July 15-31. Open Garden days will return in September. For more information, (916) 875-6913, sacmg.ucanr.edu , facebook.com/sacmg
-- Kathy Morrison