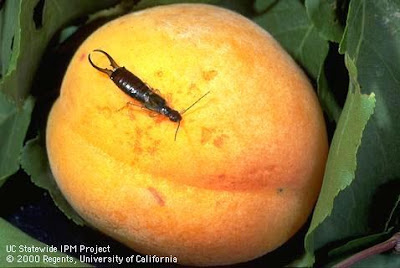 Earwigs won't kill mature plants, but they'll destroy
seedlings and damage soft fruit and berries. (Photo
courtesy UC Integrated Pest Management)
One insect apparently liked our roller-coaster spring: Earwigs.
"We've gotten a lot of questions about earwigs," says Kevin Marini, community education specialist for the UCCE  Master Gardeners of Placer County. "There's always a pest every year that rears its head and becomes 'The Pest of the Year.' We're still waiting, but by all appearances, maybe it's earwigs."
Earwigs eat holes – especially inside rose flowers or through heads of lettuce. They usually won't kill a mature plant, but they can be death to seedlings.
"Earwigs are very, very challenging for emerging plants," Marini says. "Direct seedlings or little transplants; they just get munched."
With their pinchers, earwigs are very distinctive among common garden insects. Their little forceps-like hooks are used for defense (although they rarely bite people).
About an inch long when mature, earwigs can do serious damage to soft fruit and berries (such as apricots, strawberries, raspberries or blackberries) and corn.
But they also are a major predator of aphids; that makes earwigs a garden good guy, too.
Anecdotally, the earwigs may be tied to late spring showers.
"We got sporadic rain; not much, but just enough," Marini observes. "Late rain can cause outbreaks of earwigs."
The moisture cups inside roses, lettuce heads and other places that earwigs like to hide – and eat.
On the other hand, early spikes in heat may have held down aphid invasions, Marini observes. "We've had hardly any calls on aphids – but that can change in a week."
Maybe all those earwigs were hungry?
For more about earwigs: http://ipm.ucanr.edu/PMG/PESTNOTES/pn74102.html