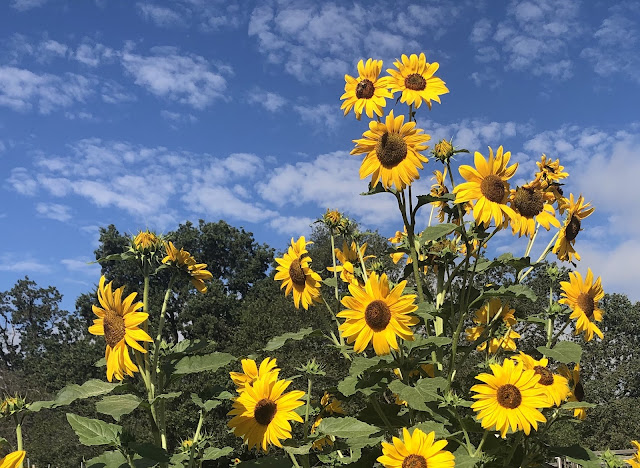 Sunflowers brighten up any landscape -- and attract bees, too. There's still time to plant some for summer color. (Photo: Kathy Morrison)
Steady onshore breezes get July off to a cool start. Compared to last week's triple-digit heat, this cool-down feels wonderful.
But with wind comes fire danger; be extra cautious with anything that can cause a spark. That includes power tools, heavy equipment, barbecues and (of course) fireworks.
According to the National Weather Service, the Sacramento Valley will see high temperatures of "only" 79 to 85 degrees on Monday, July Fourth. The foothills will be 10 degrees cooler.
Normal for Independence Day in Sacramento: 92 degrees.
The forecast calls for several more days in the low to mid 80s before creeping back into the low 90s by Friday. Enjoy this mild summer weather – and get things done.
* Keep your vegetable garden watered, mulched and weeded. Water before 8 a.m. to reduce the chance of fungal infection and to conserve moisture.
* Water, then fertilize vegetables and blooming annuals, perennials and shrubs to give them a boost. Feeding flowering plants every other week will extend their bloom.
* Give tomatoes, squash, melons, peppers and eggplant some bone meal or other fertilizer high in phosphate to stimulate more blooms and fruiting.
* If your melons and squash aren't setting fruit, give the bees a hand. With a small, soft paintbrush, gather some pollen from male flowers, then brush it inside the female flowers, which have a tiny swelling at the base of their petals. (That's the embryo melon or squash.) Within days, that little swelling should start growing.
* Remove spent flowers from roses, daylilies and other bloomers as they finish flowering.
* Pinch blooms from basil so the plant will grow more leaves.
* Cut back lavender after flowering to promote a second bloom.
* It's not too late to add a splash of color. Plant petunias, snapdragons, zinnias and marigolds.
* From seed, plant corn, pumpkins, radishes, winter squash and sunflowers.