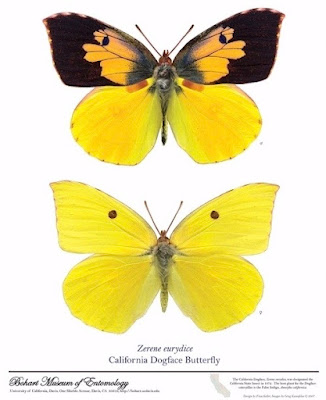 This poster from the Bohart Museum of  Entomology
shows the male and female California dogface butterflies.
The poster is the work of Fran Keller and Greg Kareofelas.
When you saw the top headline, did you remember the name of the California's state insect? Most of us learned that in 4th grade, along with the state flower (California poppy, of course) and the state bird (California quail). It's the California dogface butterfly ( Zerene eurydice ).
Unlike some of the other state symbols, the dogface butterfly has been the state insect only since 1972. (The California redwood was designated the state tree in 1937. The poppy earned its title in 1903.)
The Bohart Museum of Entomology, on the UC Davis campus, will celebrate those 50 years of butterfly celebrity with a family-friendly open house this Saturday from 1 to 4 p.m. It's hardly a coincidence that the California dogface butterfly is part of the Bohart's logo . (The male butterfly has the dog head outline in its peach and black upper wing markings; the female is all yellow with a black spot on the upper wings.)
The butterfly, also called "the flying pansy" for its markings, is endemic to California. It can be found from San Diego to Sonoma County, mostly in foothills or mountain locations, but a major breeding ground is in Auburn, in the Shutamul Bear River Preserve , which is maintained by the Placer Land Trust. According to a U.S. Forest Service information page on the butterfly, its larval stage (caterpillar) feeds on the leaves of the false indigo plant, while the adults feed primarily on flower nectar from plants of the Brassicaceae (mustard) family. It's an important pollinator in its native region.
The impetus for the butterfly's inclusion in California state officialdom came from a 4th-grade class in Fresno, at Dailey Elementary School. Teachers and students persuaded then-Assemblyman Ken Maddy to be author of the bill. Then-Gov. Ronald Reagan signed the bill into law on July 28, 1972.
The Bohart Museum is rarely open on the weekend, so this event is a great chance for families and insect fans of all ages to visit. The museum is in Room 1124 of the Academic Surge Building, 455 Crocker Lane, UC Davis Main Campus. The nearest intersection is LaRue Road and Crocker Lane. See the map here . Campus parking is free on weekends.
For more information on how UC Davis entomologists discovered the butterfly's Auburn breeding grounds, read this post from The Bug Squad , a blog by Kathy Keatley Garvey, UC Davis communications specialist.
-- Kathy Morrison
P.S. If you visit the State Fair over the next two weeks (it opens Friday), look for the California dogface butterfly images on the monorail cars.